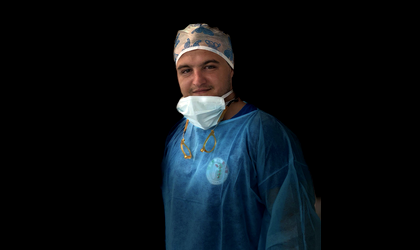 The number of Romanians with dental problems and requesting dental implants increased in the period 2021-2023 compared to the pre-pandemic period (2018-2019). Thus, 9 out of 10 Romanians end up without teeth from the age of 40, at which point they opt for dental implants to complete one or both dental arches, investing between 5,000 and 15,000 euros for prosthetic work, shows an analysis of Clinica DRM, one of the main dental implantology clinics in Romania.
"A large part of Romanians end up in a dental office when they lose teeth, although preventive consultations and treatments should be a priority and should take place regularly, at least once a year. Thus, 90% of patients who choose our clinic for dental implants are almost toothless, coming in most cases for the placement of all teeth. My team and I perform very complex dental surgery, many patients turn to us for the most difficult interventions in the spectrum of implantology. Many patients request dental implants quite late when the bone volume is already affected and bone addition is needed to be able to reconstruct the teeth. This increases the final cost, with many surgical interventions costing as much as a car. That is why we recommend that all Romanians prioritize prevention through oral hygiene and periodical prophylaxis treatments," declares Dr. Alin Udeanu, dentist, international lecturer in advanced implantology, and founder of Clinica DRM.
The number of dental consultations and preventive treatments in Romania has been continuously decreasing in the last 10 years. For example, according to official data, in 2011, almost 1.5 million consultations and treatments were registered in the country, in 2013 there was a drastic decrease to 500,000 dental consultations and treatments, and in 2021 their number reached 300,000, a sign that Romanians have considerably reduced visits to the dentist. Paradoxically, during all this time, in which the number of consultations and treatments decreased, the number of clinics and dental offices increased by 25%, against the background of numerous requests for complex interventions.
50% of cases require the implantation of all teeth
At the same time, according to the data of Clinica DRM, the age at which Romanians lose their teeth also decreased, due to the lack of oral hygiene and preventive treatments, but also due to an unhealthy lifestyle, such as smoking, which is one of the main factors which weaken the strength of the teeth and lead to their falling out.
Thus, women and men in Romania are equally affected by the loss of teeth. Of all cases for implantology, 50% needed the implantation of all teeth, 27% on a single arch/half of the number of teeth, and only 23% for 2-3 teeth.
Romanians who live abroad come to Clinica DRM for dental implants, mostly from Spain, Germany, England, France, Italy, and more distant areas, such as New Zealand.
The cost for a single dental implant starts from 180 euros, with the DRM subscription, and can reach 5,000-6,000 euros for both arches, depending on the needs of the patient, each case being unique and receiving personalized treatment. The costs can reach 15,000 euros, depending on the complexity of the intervention. Considering the high costs, many Romanians take out bank loans to cover the costs of tooth reconstruction.
"We have to admit that the prices for implants are high compared to the salaries of Romanians, and the cost is a decisive criterion when a Romanian patient decides to start dental treatments. Thus, we wanted to make dental implantology services accessible to Romanians and launched the all-inclusive dental subscription for 200 lei per month, through which Romanians benefit from any treatment on natural teeth for free and a 70% discount for dental implants, addition, and dental crowns. Thus, for example, for dental implants worth 15,000 euros, the patient will pay only 4,500 euros, being the only subscription of this type in Romania," explains Dr. Alin Udeanu, dentist, international lecturer in advanced implantology and founder of Clinica DRM.
After the launch of the all-inclusive dentistry subscription, through which dental implants became accessible to Romanians, the number of requests for dental implants increased 10 times. On average, 100-120 dental implant procedures are performed monthly in Clinica DRM, most of them to complete both arches.
Before dental implants, it is necessary for patients to undergo complete medical examinations to know if they suffer from certain conditions that prevent the realization of implants. For example, hypertensive patients or other conditions cannot get dental implants until they resolve that condition.
Romania is in the last place in oral health in Europe. Only 37% of Romanian adults brush their teeth daily, 2% do not brush their teeth at all, and almost 50% use chewing gum instead of toothpaste, according to a 2021 INS study.