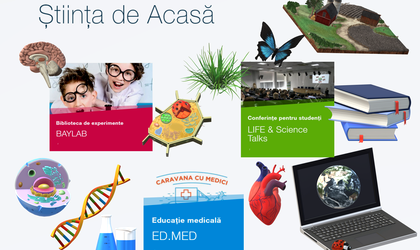 Baylab adapts to the times we live in and gets relaunched in digital format, as part of "Știința de acasă" (Science at home) project. This way, primary and secondary school students, but also high school students across the country, will be able to access science through various resources in multimedia format. All information is available on www.bayer.com/ro/ro/stiinta-de-acasa.
Do you want to learn by experimenting? Do you want to discover science through play? Do you want to understand from experts in the field how you can put into practice the knowledge gained during college? Or maybe you want to know how to identify situations that require first aid? Enter the Baylab library or the LIFE & Science Talks and EdMed platforms to access new resources available to you for free!
As part of its vision, "Health for all, hunger for none!", Bayer contributes to education in digital format, adapting to current needs.
What is "Știința de acasă"? An integrated platform, developed for 3 key projects:
Baylab – library with free downloadable materials and video library with science experiments, which can be done safely also at home, by students, in addition to the information received in class. With over 30,000 participants from Romania and from the Republic of Moldova in the sessions of the last 6 years, Baylab is a strategic project of Bayer, launched in 2014 in order to make children friends with science and increase interest in school and learning at large.
EdMed – a collection of useful tips in the field of health education and first aid, on the understanding of pre-university students, made in partnership with the Caravan with Doctors Association. In July 2016, Bayer Romania joined the initiative initiated by the "Caravan of Doctors" to provide free medical care to people living in isolated rural areas of Romania, and since 2019 is a partner of the Medical Education project developed by them.
Life & Science Talks – an archive of conferences through which Bayer experts connect with students to build a bridge between the knowledge gained during college and their applicability in real life. Launched in 2017, the project opened the dialogue between students from the faculties of medicine, pharmacy, agronomic sciences, law and communication in several cities in the country and Bayer experts on topics such as: sustainability, digitalization, corporate ethics, science, research, communication, human resources, stewardship and responsible use, ledearship, innovation and more.
'2020 was not a "normal" year. Even though many of us are used to facing various challenges, no one could have expected this year to be the one that fundamentally reshapes our way of life. We can look at 2020 as the year in which we faced obstacles or we can see it as the first in a series of years open to new opportunities.
"This year I learned from the children, first of all, what adaptability means and how important it is to move forward, no matter how difficult the road seems to you. We believe that we have a duty and a responsibility to future generations to support education as a foundation of a functioning society. It has never been so clear how important science is for our future, for everyone. And Baylab has always been thought of as a resource to bring the little ones back to the science around them. We go further, this time accessible not only in a few cities, but to children across the country," said Ruxandra Pirojoc, Director of Communication, Public Relations, Science and Sustainability for Bayer Romania, Bulgaria and the Republic of Moldova.
Știința de Acasă platform will be constantly updated within the 3 projects, and the updates will be constantly communicated through the Facebook page https://www.facebook.com/BayerRomania.