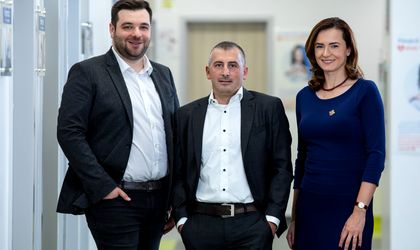 AFFIDEA ROMANIA launches a strategic partnership with SanoPass, the largest digital platform that integrates medical prevention and fitness services in Romania and the Republic of Moldova. The 1 million patients of Affidea and Hiperdia centers will now be able to access all medical services directly from the digital platform.
The partnership between the two important players in the healthcare market will be structured in several stages, the first aiming at the speed and efficiency of appointments and will be completed with customized solutions for both companies and individuals.
"The digitization project of the Affidea Romania and Hiperdia centers continues with this new partnership, offering our patients another quick access channel to international standards medical services.. After the online appointments on www.affidea.ro experience, the digitization of patient registration protocols in our medical centers, this partnership completes the range of benefits we offer to all patients. Annually, we treat approximately 1 million patients in our medical centers. With the help of this new tool, they will be able to make an appointment with a doctor or pay for certain services in less than 2 minutes," states Razvan Predica, Country Manager Affidea Romania.
—
"The current structure of the SanoPass users portfolio is dominated by the B2B area (90%), the rest being represented by the B2C segment. The business objective of the next year is to continue to grow on both areas, the target on B2B being of 50% and for the B2C segment at least 2.000 new users. In this sense, we have the opportunity to develop together with Affidea Romania professionals and client companies personalized and dedicated solutions in the wellness area, the most important trend of 2022: overspecialized medical services combined with access to gyms, medical recovery, psychology and nutrition," says Delia Iliasa, Managing Partner of SanoPass.
Thus, this partnership represents a first in the Romanian medical field: a national network of medical centers integrated 100% within a digital platform, with complex services for both the Business-to-Business and Business-to-Consumer areas.
"The partnership with the national network Affidea Hiperdia represents a new step towards achieving the general objective of SanoPass: that of simplifying the access of every Romanian to preventive medical services. Affidea Group is a partner that embraces common values ​​and emphasizes technology and the benefits it can bring, and joint development plans will positively impact both SanoPass users and Affidea Romania patients," said Andrei Vasile, Managing Partner SanoPass.
The main benefits of the SanoPass application are based on 3 pillars:
Accessibility – all users of the application can access a specialist in a maximum of 48 hours;
Flexibility – SanoPass subscriptions are 100% customizable and the configuration by service categories is easy to understand;
Transparency – each subscriber sees in real time in the mobile application or in the web platform the number of services he has included in the subscription, but also the medical clinics in which he can use them.