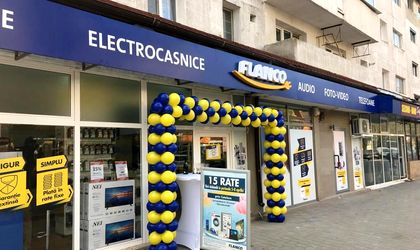 Flanco Retail inaugurated its first store in Odobesti, Vrancea County on Friday, reaching a network of 139 stores located in 100 cities across the country.
"With a total area of ​​116 square meters, the Odobesti shop and its four employees welcomed their first customers with special offers, electro-IT products and state-of-the-art technologies, as well as all the services provided by Flanco at national level – advantageous financing solutions, home delivery and extended warranty," says Mihai Barbu, sales manager at Flanco Retail.
The retailer aims to open about 20 stores by the end of the year and thus strengthen its presence across the country, especially in small and medium-sized cities.
"We started the year with the opening of stores in Borsa (Maramures County), Vulcan (Hunedoara County), Moreni (Dambovita County) and Toplita (Harghita County). With the opening in Odobesti, we were glad to touch the 100th city of Flanco, but we do not stop here. Just the next month, we have already planned three more store inaugurations, two of them for the first time in the cities," says Dragos Sirbu, Flanco Retail CEO.
On 12 April, Flanco will open its first stores in Pucioasa (Dambovita County) and Gherla (Cluj County), and on May 10th will inaugurate a second store in Roman (Neamt County).
New stores enter the retailer's plan to reach a network of approximately 160 locations by the end of the year, targeting an investment budget of RON 12 million.
With a team of more than 1,500 employees, the retailer continues to invest in increasing the number of sales consultants and training them, for which he has developed dedicated human resources programs to permanently improve the counseling services offered in stores.