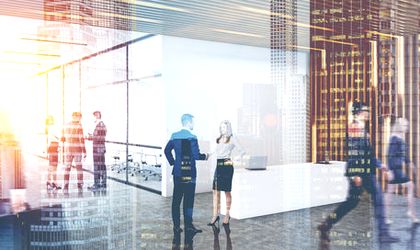 Mid-sized companies all over the world are much more optimistic about the conditions and opportunities in the business environment compared to last year, according to the EY Growth Barometer annual survey.
The growth perspectives are improving in 2018 for all important economies, as the IMF currently predicts a 3.9 GDP growth for this year. In this positive context, company leaders are optimistic regarding the increase of revenues.
EY's annual study, conducted among 2,766 executives in mid-sized companies in 21 countries and nine key sectors, shows that the global trust in business development has consolidated in the past 12 months. 60 percent of companies are expecting growth between 6 and 10 percent, compared to only 34 percent of companies who had the same ambitions a year ago. Another 27 percent are predicting growths of more than 10 percent – slightly fewer than in 2017, when 30 percent of the companies were expecting this type of significant growth. Furthermore, none of the respondents in 2018 said they were expecting a decline in growth, compared to 5 percent who did in 2017.
Leaders of mid-sized companies are planning higher revenues, are creating more full-time jobs and are implementing innovative technologies to fulfil their ambitious growth objectives. However, they remain worried about cash flow deficits, more restrictive loans or the lower global demand, which could represent major risks for the long term.
"As something we've become used to in the past few years, the Romanian economy is developing based on a similar model to the world economy, with the fight for attracting talent and digitalization as the main disruptive forces in growth. Now, more than ever, we see how technology and talent diversity influence each other, and together determine, sometimes dramatically, the emergence of new sectors and accelerated growth rates," says Horatiu Pirvulescu, Growth Markets Leader at EY Romania.
The race to adopt AI
Smart automation and machine learning technology have become essential for the growth ambitions of mid-sized companies. Attitudes towards new technologies have quickly evolved compared to last year. While in 2017, 74 percent of CEOs of mid-sized companies globally said they would never adopt process automation (RPA), only 12 months later, 73 percent of respondents say that they're already adopting or planning to adopt AI in the next two years.
According to the survey, companies are recognizing their need to become more agile. However, due to their desire to adopt new technologies and incorporate AI into their businesses, company leaders are in danger of underestimating the scale of cyber threats. In fact, only 7 percent of them are intending to invest in technologies that lower the risk of cyberattacks in the upcoming year, and 6 percent think that cyber threats are a challenge to growth.
Regulations don't inhibit, but boost, innovation
Regulations adopted this year have become a new factor for stimulating innovation, and not for obstructing it. Through a major change of opinion, leaders in all sectors and regions, except North America, think that introducing new regulation is an essential factor to encourage innovation (25 percent), surpassed only by profitability (27 percent). As governments use legal methods to promote social benefits (such as less sugar in carbonated drinks and less toxic pesticides), company leaders take advantage of these new market opportunities to innovate and develop, as the EY Growth Barometer found.
Sectorial convergence accelerates
Sectorial convergence has become another important factor that will boost growth, as almost a quarter (23 percent) of company leaders in the world think it will have the second most significant impact on business, after demographic changes (33 percent). For US company leaders, convergence is the main force to fuel their growth ambitions (31 percent).
Diverse talent is essential for achieving growth ambitions
Showing trust in the sustainability of growth, 39 percent of companies intend to increase the number of full-time specialists in the next 12 months. This is a significant growth compared to 13 percent in 2017. Furthermore, only 1 percent of respondents intend to lower the number of employees, down from 9 percent in 2017. Attracting talent with the necessary skills is at the top of factors that accelerate growth, ahead of making processes more efficient and adoption of new technologies.
Worries about cashflow and financing remain
Although access to crediting continues to be a problem, this year company leaders identify insufficient cashflow as the more important obstacle, as 35 percent put it in first place.
Issues related to cashflow and circulating capital are seen as more important than risks generated by disruptive technologies or talent deficiencies. This is most acutely felt in Europe, where these types of problems are in first place for 37 percent of respondents.
At the same time, companies led by women are strongly affected by a lack of financing, as 18 percent see this as a major obstacle to growth, compared to 11 percent of their male counterparts. However, 30 percent of companies led by women plan growths of over 15 percent over the upcoming year, compared to only 5 percent of companies led by men, even though more than half of the companies headed by women (52 percent) say they don't have access to external financing.