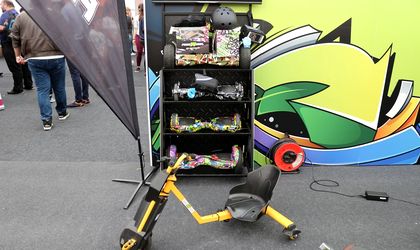 The online retailes evoMAG expands its portofolio with a new category of products, respectively electric scooters, electric bikes, electric skateboards and electric monocycles. In total, the shop will bring 300 models of this devices and is expecting to have a revenue of over EUR 300,000 by the end of the year from this sales.
"We launched the new category based on an increasing appetite for product purchases that allow outdoor activities. Thus, we included evoMAG electric tricycles, electric bikes, hoverboards, electric skateboards and electric monocycles from over 40 manufacturers and we are able to offer a wide range of such products at affordable prices, tailored to the needs our customers," says Mihai Patrascu, CEO of evoMAG.
The new category, electric vehicles, includes over 300 models for children and young people as well as adults. As for the customer profile for these types of products, children and young people up to 20 years of age buy mostly hoverboards, scooters and electric bicycles are purchased by young people aged between 25 and 30 years.
Overall, buyers are over 80 percent men, passionate about sports and outdoor activities. Regarding the consumption habits of customers in this category, they initially buy cheaper products, electric vehicles representing a relatively new category introduced on the Romanian market.
Test your scooter and electric bikes
evoMAG also provides customers with the opportunity to test products in the new category, being the only online store in Romania to offer this. Thus, during the summer, those interested can test over 40 models of electric scooters, electric bikes, electric skateboards, electric motorcycles and hooverboards.
The next test drive will take place on Saturday, July 21, at the evoMAG showroom in Splaiul Unirii, no. 257-259, followed by the latest test drive this summer on August 18, also at the evoMAG showroom. During this time, evoMAG customers can also buy discount products from the new category.