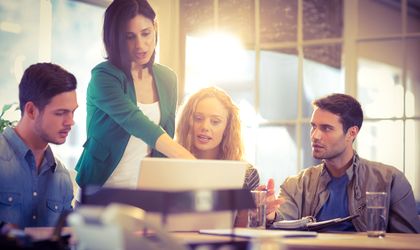 One of the most important aspects of employer branding is the opinion of current and former employees, according to a study by My HR Lab. Currently, about 45 percent of Romanian companies are working on developing an employer brand.
During January 2019, My HR Lab conducted the online questionnaire "The Importance of Employer Brand in Recruitment", a questionnaire among over 200 professionals involved in recruiting processes in Romania.
Most people (91 percent) in human resources and hiring managers believe that the employer brand is important in the recruitment processes. About 45 percent of the companies represented by respondents are currently working on defining and developing their employer brand, while 40 percent of companies already have a defined employer brand that is known on the local market.
From the point of view of the people involved in the recruitment processes, the three most important aspects that draw the attention of candidates are:
The view of employees and former employees about the company (67 percent of respondents);
Wage package and benefits (57 percent of respondents);
Career development and advancement opportunities (52 percent).
Other aspects of the employer brand that attract the attention of candidates and are considered important by HR people and hiring managers are:
Company's reputation (47 percent);
Organizational culture (37 percent);
Presence and content in social media (26 percent).
The Questionnaire "Importance of the Employer Brand in Recruitment" was promoted during January 2019 on MY HR Lab's Facebook, LinkedIn, and Instagram pages. A total of 209 professionals involved in human resource processes responded to the questions.
Of these, 67 percent work in multinational companies, 27 percent in local companies and 9 percent in mixed capital companies. For the industry they are recruiting, 32 percent are looking for candidates for IT & C companies, 19 percent for professional services companies, 14 percent for production, 11 percent for retail, 8 percent for BPO, 5 percent logistics and transport, while 11 percent are recruiting for industries such as pharmaceuticals, banking, oil & gas or construction.