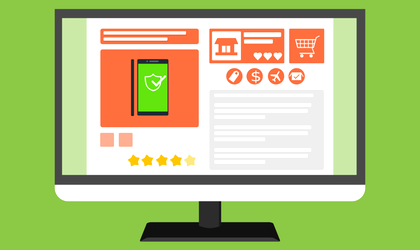 Online shopping isn't anything new, and in 2020, the market exploded through necessity. However, for some time now, many expected the world of eCommerce and its fellow fields to overtake traditional in-person purchasing behaviour. This certainly hasn't proven to be the case, but in the latest figures, it's found that the UK is much closer to online shopping dominance than any other European nation.
Drawing from the 2021 figures, the UK clocked eCommerce revenues in excess of €254 billion to account for a little over 10 percent of GDP. France was next on the list at a mere €123.4 billion for nearly 5.2 percent of GDP. In the UK, online shopping is going strong, so what can EU businesses draw from this seemingly mighty market?
Incentivising the online experience
One of the main aspects of eCommerce in the UK that stands out as a reason behind online shopping's greater influence than across Europe is the incentives. Many customer-facing online sectors have quickly become very competitive, and so, they've turned to offers, just like with the casino promotions at Paddy Power. Not only are there ways to get more spins and game time, but there's also a variety of offers.
So, those who go to the platform for jackpot games can get up to 150 free spins, while table players can get Golden Chips. Recurring bonuses like the free spin on the Wonder Wheel or weekly free slots bet are also key. It's the impact of the initial bonus followed by continued promotions for being a loyal customer that continues to prove to be a winning formula in the UK's online market.
Beyond casino gaming, which fits in as more of a service than a product to buy and keep, there's a similar process in play with the go-to online brand for audiobooks. There's the welcome offer for Audible that grants three months of access for just 99p. Then, as a subscription holder, users can claim an audiobook from the platform's library for free, on top of sporadic member-only deals that come around.
Power of free shipping and instant discounts
As was discussed at Re:Focus, logistics and transport are key elements of online retail and a huge focus for customers. Unfortunately, Amazon made free and fast delivery mainstream – even if that fast free delivery requires a monthly subscription to access. Other online businesses have had to catch up, but few have the clout that Amazon has to absorb the delivery losses through the mass of orders.
Instead, independent businesses have tapped into the draw of free shipping, but in a much more manageable way. It was found that 90 percent of customers see free shipping as the top reason to buy with one online store over another. So, the likes of Senshi and Goblin Gaming have a clear banner saying 'free delivery,' but with the caveat of it only being free with orders over £50 and £75, respectively. It appeases customers while encouraging sales.
Along with the free shipping requirement, instant discounts have also become popular pop-ups to entice visitors and get them on email blasts. On sites like Bravose and Funko, the approach has even been amped up a bit. Those who land on a page on these sites get a wheel to spin with discounts and free goods galore on to be won. To get these discounts, the user then needs to enter their email to join the blasts but get discounts on first purchases.
The UK's online shopping market is buzzing right now, and is way ahead in terms of adoption than its European counterparts. A big part of this is the mindset of needing to offer extras to land and keep potential customers.