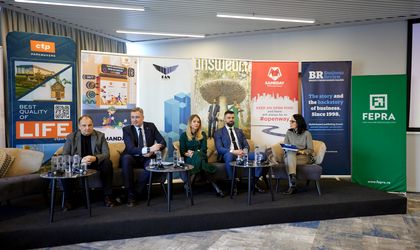 The second panel of Re:Focus on eCommerce, Retail & Logistics discussed the logistics and transport part of online retail, as well as the developing new retail parks related to the trade sector. Romania is still a cheap destination in terms of retail spaces, and this is one of the elements that make us an attractive destination for investments.
Victor Cosconel, Head of Leasing, Office and Industrial Agencies and Member of the Board at Colliers Romania, believes that the omnichannel approach is the most suitable for consumers in Romania.
"Romanians like to see, touch products, and go to stores. On the other hand, no one can dispute the power behind eCommerce. Many customers choose, for this reason, both trade channels, i.e. they also have traditional, physical retail, but also invest in online. The decision to invest more in traditional or online depends on the strategy of each company. For Romania, I see nothing but optimism and growth ahead, including if we compare ourselves to the states of Central or Western Europe", says Victor Cosconel.
Tudor Iuga, Partner, Land Development, Industrial, and Logistics, Simon & Partners Real-Estate Advisors, explained that the Cluj office of the company received many requests for retail spaces around small towns. "The addressability is made around the cities of 10,000 – 12,000 inhabitants precisely because this proximity to the final consumer is desired. They are virgin markets, if I may say so. These parks are becoming more and more interesting for developers, but also for investors, both institutional ones.
Parks also offer an advantage over malls because PUZs or PUGs for big cities are much more restrictive. For retail parks in smaller cities, there is interest from the authorities and then the authorization process is safer and faster", explains Tudor Iuga.
Even if the purchasing power is lower in these cities, the shops and spaces are made in such a way as to accommodate the level of purchasing power, Iuga also points out.
Adrian Urda, CEO at Cometex, explained that the company he leads also looks at small and medium-sized cities when it comes to developing new retail spaces.
"These areas are not always within the reach of large developer companies that want returns or big cities. Cometex is the retail arm of the Altex group, but it becomes an independent developer that builds these retail parks, it is not just the Altex developer. Thus, we are moving towards small and medium-sized cities and finally we will reach the whole country. The reason why we are doing this development anyway is that Altex is a mass-market store, it addresses all consumers and reaches cities with 15,000 inhabitants. We have developments scheduled for the current year in cities such as Caransebeș, Dej, Bals, Motru. In these parks we will find Altex stores, but also other national or international retailers", says Adrian Urda.
If Bucharest is the main hub for retail in Romania and in the region, intermediate hubs are developing next to cities such as Iasi, Timisoara, Cluj, and others. "These intermediate hubs serve the final customers and make the connection between the main hub and consumers, both for traditional and online retail," says Urda.
"The development plans we have were made in the last three years, not now. We have approximately 40 projects throughout the country, 27 of which have been completed. For this year we have ten that will be held. Currently, we have spaces that cover 80,000 square meters, and the plan is to reach 250,000 square meters in 2025", explains Adrian Urda.
Cristina-Maura Toros, Leasing Manager at CBRE Romania, showed that last year was very good for the retail market, with consumers returning to malls and shopping centers to pre-pandemic levels. "Retail turnover even exceeded 2019 and we are happy to see that this trend is maintained. I noticed last year, a series of new retailers that entered the Romanian market, about 17 companies opened stores. A series of large retailers, with generous spaces, which we were happy to see in Romania", says Cristina-Maura Toros.
"In terms of stocks, at the end of 2022, we noticed that a minimum of 4 million square meters of logistics space has been reached, of which 87,000 square meters have gone to the development of retail parks. We are happy that we have a better delivery pipeline for this year than last year, approximately 260,000 square meters will be delivered. These are retail parks and shopping centers that will be delivered, not to mention expansions. All this means that we managed to overcome the difficult moments of the last years and we continue to develop", says Toros.
"In retail parks in small and medium-sized cities, retailers suitable to the purchasing level of consumers in the area come, not those who are in malls", explains Cristina-Maura Toros.