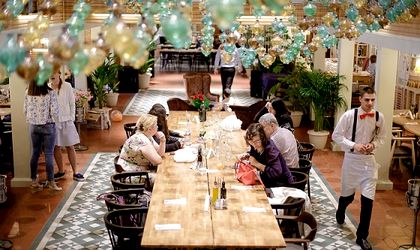 City Grill Group, the largest Romanian brand in the restaurant industry, has invested EUR 300,000 in the refurbishment of the interior of Pescarus restaurant, on the Herastrau lakeside, in a project signed by architect Mihai Popescu.
With a surface of 1,400 sqm and a 900-seat capacity (600 indoor and 300 outdoor), Pescarus restaurant is the largest in City Group's portfolio. It was purchased in 2015, and the refurbishment this year is the first major investment of City Grill Group in the interior design of the restaurant, with the purpose of transforming it into a benchmark of modern Bucharest gastronomy.
"Pescarus is an established restaurant, a destination space that attract both young and nostalgic visitors. The restaurant is performing above expectations and is following the growth trajectory we put in place in 2015, when we decided to include this brand in the Group's portfolio. We see a constant two-figure growth every year. In this context, our investment in redesigning the interior is the natural step to make the restaurant relevant, maintaining its unique charm that has been attracting clients for several decades," said Daniel Mischie, CEO of City Group Grill.
The investment in the refurbishment of Pescarus restaurant is part of City Group's investment plan to develop their restaurant network and refurbish existing properties for this year, with a total budget of EUR 4.2 million.
The concepts for refurbishing and repositioning Pescarus restaurant were developed by architect and designer Mihai Popescu, along with the Homemade Stuff agency, using the concept of Bucharest gastronomy as the departing point. Refurbishment works lasted three months.
Starting this season, the menu at Pescarus restaurant is signed by Chef Henrik Sebok and proposes a selection of international dishes.
The restaurant is visited by clients of all ages – the local public makes up for 80 percent of the total, and the rest of 20 percent are tourists interested in visiting one of the landmark destination of the city.