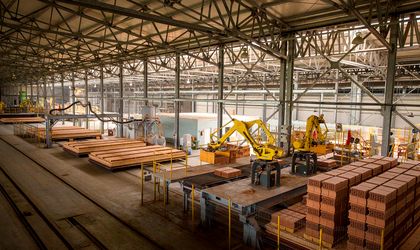 The ceramic blocks producer Cemacon, owned by Dedeman, recorded a 48 percent increase in turnover in the first quarter compared to he same period of 2018, to over RON 31.8 million, while operating profit amounted to RON 17.38 million.  
"The market context continued to be positive in the first quarter of 2019, with a good demand for masonry materials and a positive evolution in sales prices, also driven by increases in energy, fuel and labor costs. The evolution of Cemacon's main indicators was positive, both in terms of business growth and profitability. Net sales rose 48 percent over the first quarter of 2018 amid higher volumes demanded by the market and operating profit grew by 86 percent," said Liviu Stoleru, general manager and chairman of the Cemacon Board of Directors.
According to the communiqué, 2019 began with a high pressure on raising some important categories of expenditure: wages, energy, fuels and raw materials. Thus, wage billings increased by 15 percent over the previous year, as the impact of GEO 114/2018 and the increase in the number of employees.
Operating expenses increased by 39 percent, while raw material and materials expenses increased by 17 percent, both as a result of the increase in the quantities produced compared to the same period of the previous year, of the new production facilities put into operation and of new products introduced into the portfolio, as well as a generalized increase in the purchase price for raw materials, materials and fuel generated by the current economic context.
"The efforts of the past years of differentiation and premium positioning of the Evoceramic portfolio, as well as investment in quality growth, new production facilities and the introduction of new products have greatly contributed to the increase in Cemacon's profitability. top technical and operational capabilities and strategic agility to reach our 2019 targets and surpass new Cemacon record levels," added Stoleru.
Established in 1969 in Zalau, Cemacon has 50 years of experience in building materials. The company has focused on obtaining an optimal recipe for the manufacture of ceramic blocks and now has a modern, automated production line that allows innovative products to be produced at the highest world standards.
Cemacon promotes the concept of "green building", including the development of the only ceramic block in Romania that does not require additional thermal insulation, Evoceramic 44 LM. The company is listed on the Bucharest Stock Exchange and is owned by Dedeman and Business Opportunity for Romania, the investment fund of Erste Group.