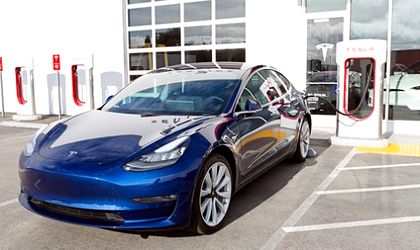 Tesla's Model 3 could be launched in Europe at the beginning of next year, the company said, with deliveries expected to start in February and March.
CEO Elon Musk has estimated the global demand for Model 3 was in the range of 500,000 to 1 million a year, according to Bloomberg.
He said that the Model 3 measures up well against BMW's 3 series and Volkswagen's Golf model, in terms of expected sales volume.
Tesla delivered 56,065 Model 3s in Q3 of this year, according to the company's financial statement. Model 3 was the best-selling car in the US by revenues and the fifth best-selling by volume, making it the best quarter ever for Tesla.
The company turned a profit of USD 312 million in Q3, by far the largest ever, exceeding analysts' expectations. Since going public in 2010, Tesla had only posted a profit in two other quarters: one in 2013 and one in 2016, while it has lost more than USD 6 billion.
Musk recently admitted that the company is still unable to deliver the base Model 3 at a price of just USD 35,000, but said that this was still their goal.
"If we could produce a $35,000 car today, we would do it. We need more work, there is more work to do before in order to make a $35,000 car and have it be positive gross margin. We're probably less than six months from that. That's our mission," he said.