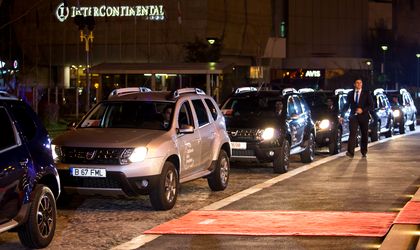 In the year that Pastel turns 10, the agency started a communication campaign for car maker Dacia named "A journey without frontiers" (Calatorie fara frontier), for the 10th edition of the Gopo Awards.
After a serious selection process, Dacian, which was the official partner of the event, chose the creative concept developed by Pastel in order to transmit the key-messages around this prestigious event.
"The concept was coagulated since the first creative meeting on this project. We decided then that the most important attribute has to be the passion for stories, the only ones that ca transport us into a journey of imagination, without frontiers or borders. We had a clear idea about what we wanted to express because we knew that the bond between Dacia and the Gopo Gala Awards reflects the common desire of bringing back under the limelight the authentic local values," said Ramon Gorjanu-Radu, co-creative director of Pastel.
Having as inspiration for "A journey without frontiers" the trip Gopo made to the Moon, the agency Pastel created a daring graphics that made Dacia literary surpass the barriers at a visual standpoint, as it does by its continuous evolution. At the same time and in the same direction, Pastel developed a graphics for the web app dedicated to the consumers, through which they could discover more about the Romanian movies, in an interactive manner.
"Pastel understood the stakes of this strategic and long-term partnership that we have with the Gopo Awards Gala. The integrated campaign, perfectly adaptable to our communication needs, contributed at the success of this anniversary edition. We are happy that, arrived at its 10th year of experience, Pastel is a journey partner and offers us inspired experiences," said Anca Oreviceanu, communication director Dacia.
The teams that worked on this campaign comprised:
Client:
Anca Oreviceanu (communication director Dacia), Luiza Domnisoru (chief of the Public Relations service at Grup Renault Romania), Liliana Tebeica (PR Specialist), Silvana Zeana (communication representative Dacia).
Agency:
Ramon Gorjanu Radu (co-creative director Pastel ), Bogdan Boiangiu ( art director Pastel), Adrian Sandu (copywriter), Oana Cristea (internal communication and Public Affairs manager), Mihaela Stoica (client service director), Madalina Ivan ( account executive).
Romanita Oprea