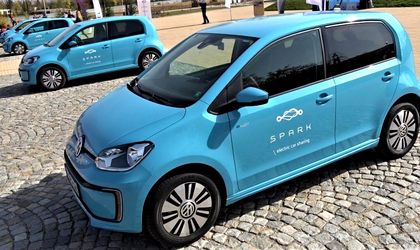 Spark, a car sharing service which uses only electric cars will be launched in Romania on July 10, adding to the growing number of alternative transport services in Bucharest, according to start-up.ro. Users will be able to drive cars for short periods of time using an app, similarly to existing services like Pony or BCR's eGo.
The company was founded in Lithuania in 2017 with Lithuanian and Bulgarian shareholding and has raised over EUR 1 million in investments.
The intent to enter the Romanian market had been announced last year by Spark's executive director Stefan Spasov.
Prices for Romania have not yet been made public. Using a Spark car in Bulgaria costs EUR 0.15/minute, but the cost might differ in Romania as it depends on car models and fiscal regulations. For reference, the Pony car sharing service in Bucharest costs between RON 1.2 and 2 per minute, depending on the type of car available.
The Spark fleet in Lithuania and Bulgaria includes cars like Nissan Leaf, Volkswagen e-GOLF, Volkswagen e-UP, Tesla Model X, Hyundai Kona, and Hyundai Ioniq, but company representatives told Business Review that the Romanian fleet may be different.