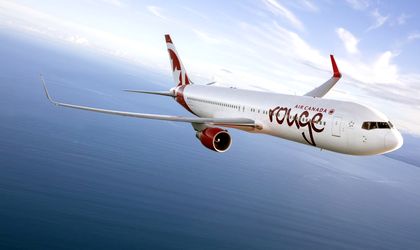 Air Canada Rouge has announced that it will resume direct flights to Montreal and Toronto from Romania, starting June 7, entering its second season of operations in Romania. The last flight of the season will be on October 7th.
Between June 24 and September 7, there will be six weekly flights to Canada, while during the rest of the operating period (June 7-24 and September 7-October 7) there will be four weekly flights. The flights will take approximately 10 hours and will be operated with Boeing 767-300 aircraft.
"Air Canada is the only North American airline to have a direct flight from Romania to Canada. We are happy to connect via non-stop flights from Bucharest to Toronto and Montreal. In the first year of operation, we saw an increase in demand for flights from Romania to North America. Therefore, in 2019, we made the decision to offer even more direct flights," says Nedime Konuksever, Country Manager of Romania, Eastern Europe and Turkey.
Passengers can opt for 2 service classes – Economy and Premium Rouge. The Economy ticket includes food, refreshments and a baggage of up to 23 kilos.
The Premium Rouge class offers passengers wider seats and more legroom. Premium Rouge passengers have the ability to carry two pieces of luggage, each with a maximum capacity of 23 kilograms, as well as priority check-in and boarding. On board, Premium Rouge class passengers have a gourmet menu, served in porcelain dishes.
Prior to boarding, passengers can download the Air Canada app, available in the App Store and Google Play, to enjoy a selection of new movies, series, music, children's programs, and more. These can be viewed on their laptop or any Apple or Android device. For a fee, passengers can borrow an iPad. They are available free of charge in the Premium Rouge cabins.
The novelty of the flights operated in 2019 is the introduction of the high-speed Wi-Fi internet via satellite, which allows users to post live videos, browse the internet and shop online during the flight.