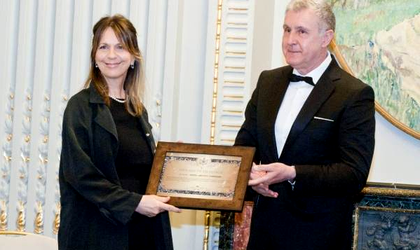 Carmistin's La Provincia brand products were awarded during the seventh edition of the Royal Household Suppliers Association Gala for their high performance and quality. The event took place at the Athénée Palace Hilton on the evening of 9 May 2023, the eve of the Romanian Monarchy Day, in the presence of His Royal Highness Prince Radu.
Carmistin Company was awarded a diploma of excellence by His Royal Highness Prince Radu, as a special recognition for all that it undertakes, as part of the tradition of the Association of Suppliers to the Royal House of Romania to symbolically reward business entities in our country whose professional performance reaches high levels of quality. The awards were presented this year to several companies and institutions without membership in the association.
"For us, the Carmistin team, it is a great honour to receive this recognition of our hard work and dedication in the service of our consumers. We thank the Royal House of Romania Suppliers Association for their appreciation, assuring them that it will always remain a privilege for Carmistin to produce healthy food for people," said Justin Paraschiv, founder and president of Carmistin.
On behalf of Her Majesty's House, the Custodian of the Crown, the event was attended by Ion Tucă, Director of the MS House and Radu Ghină, Royal Counsellor.
Bringing together companies and professionals from various fields of activity, such as food, electronics, porcelain, winemaking, fashion or traditional crafts, the association aims to become the catalyst for the efforts of the Royal Romanian Household Suppliers to promote the highest standards of quality and excellence in commercial activity.
The association is structured after the British example of the Royal Suppliers Association, which serves to inform the public about the work and products of the holders of this respected symbol of quality. Representing the majority of suppliers to Her Majesty's Household, the Association was set up to promote the principles behind awarding this title of honour, sometimes likened to "a noble merchant's title".
Carmistin Group is currently positioned among the top three food producers in Romania. The group comprises more than 20 companies active in poultry meat and egg production, pig breeding, cattle breeding, and cereal production. Carmistin currently includes farmers with more than 10,000 hectares of cultivated land, of which more than 30% is organic farming. Carmistin's objective is to become Romania's largest animal protein producer.