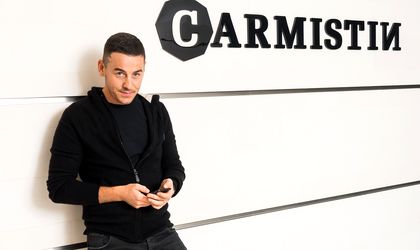 Acting on his vision to develop an integrated business, in line with the European policies of shortening the chain between producers and consumers, Iustin Paraschiv, the founder of Carmistin, one of the biggest players in the Romanian agri-food market, has a EUR 250 million investment in the pipeline. Part of this plan, a new chicken slaughterhouse will be completed by the end of 2023 following an investment worth around EUR 65 million.
After gaining expertise at Ana and Cornel, a processed meat factory in Prahova County owned by his parents, Iustin Paraschiv founded Carmistin in 2000. The Carmistin Group currently produces over 32 million chickens, 10,000 cattle, and anticipates having about 650,000 pigs by the end of the year, making it one of the most significant participants in the nation's agri-food industry.
Iustin Paraschiv has greatly developed the integrated business since 2008 when he took over the Oltchim agricultural platform. Immediately after the financial crisis, he had an investment plan of around EUR 30 million, one of Carmistin's first ambitious projects. Major investments followed this in pig and cattle breeding. Then, at the end of 2017, Iustin Paraschiv decided to expand the Carmistin Group by acquiring Avicola Târgu Jiu. With this transaction, the Carmistin Group has become one of the largest poultry breeders and producers in Romania.
"Our vision is to shorten the food chain and create added value in Romanian agriculture, which means having – preferably – farmers in the same area where we operate, supplying raw materials for feed mills and providing feed for animals that can be slaughtered nearby. So we have an integrated business or a short production chain," says Cristina Popa, Carmistin's deputy general manager.
Carmistin's new slaughterhouse will be completed by the end of 2023, following an investment of around EUR 65 million
The most recent investment of the Carmistin Group is a poultry slaughterhouse that is being built in Frâncești, Valcea. The built-up area of the slaughterhouse will be 16,000 m2, and the entire investment will be roughly EUR 65 million, of which EUR 17 million will come from government aid. "The slaughterhouse will be ready at the end of 2023 and we will open it at the beginning of 2024. It will be the largest slaughterhouse in Eastern Europe," says Gabriel Crăciun, general director of Avicarvil, which is part of the Carmistin Group and operates in the chicken meat industry.
There are currently two slaughterhouses in Carmistin, one in Valcea County and one in Gorj, with daily slaughter capabilities of 40,000 and 80,000 chickens, respectively. It is anticipated that the new slaughterhouse in Frâncești, Vâlcea, will work in two shifts and at least quadruple the current slaughter capacity. Around 600 new jobs will be created by the company with the new investment.
The farm in Crevedia, Dâmboviţa, was another recent investment made by Carmistin. Currently, 27,000 hens are reared there, and one cycle, which may weigh up to 2.5–2.6 kg, takes 56 days. The farm started having chickens a year ago and is currently on its sixth batch. It is an automated farm where more than 100,000 chickens are raised annually by only 5 employees.
Carmistin has 29 pig farms, 21 broiler chicken farms, one organic chicken farm, and two cattle farms, some of which are its own and others belong to partners in the Farmer in My Country project, made up of 40 farmers. "Our Farmer in My Country project gives us the opportunity to share our experiences with the community in which we have developed. We offer support to those who need it and integrate with us farmers who are mainly from rural areas and have more than 10,000 hectares of cultivated land, of which more than 30% is for organic farming," says Cristina Popa.
The Carmistin Group's output is centered on poultry meat from the LaProvincia brand, which is sold in 32 of its own shops, supermarkets, and hypermarkets and exported as well. "We now export 30% of our chicken meat production to all of Europe and Africa, and with the opening of the new slaughterhouse we will increase this percentage to 40-50%," says Gabriel Crăciun.
The Group is also planning to invest in a cogeneration facility that produces both electricity and gas. This EUR 9 million project is currently in progress. The new slaughterhouse will also include a green investment component, an important standard fo Iustin Paraschiv who strongly believes that any investment the Group makes must necessarily have a green component.
In the case of the slaughterhouse, which has a built-up area of 16,000 m², Carmistin is building a location where solar panels can be installed, and in the following time frame, the Group will also bring in equipment and energy generation systems. The site will also have temperature control and will be able to recover the heat and convert it into hot water or heating. While proceeding with this investment and automating production capacity, Carmistin will also be able to cover some of its energy requirements and also reduce costs.
A new storage base with a capacity of 50,000 tonnes
Near Frâncești, in Băbeni, 20 km from Râmnicu Vâlcea, the group has just completed its investment in a new storage base, and most of its grain comes from farmers in Vâlcea or the surrounding counties. It now has ten new grain silos with a total capacity of 50,000 tonnes.
"The new storage base was completed three months ago and we now have 30,000 tonnes of grain stored in it. We have a capacity of 200 tonnes per day, which we can deliver with 8 trucks. Still, we will increase to 800 tonnes, as soon we will also operate by rail," says Marius Bărbulescu, general director of Pajo Agriculture, which belongs to the Carmistin Group.
The 30,000 tonnes in storage, which come from 100 farmers with 10 to 1,000 hectares of land, are sufficient for one month until the start of the new harvest season, but the Pajo Agriculture GM anticipates that they will quadruple by mid-June. "Between 80 and 90% of the grain comes from Valcea and neighbouring counties because we reduce transportation costs," says Marius Bărbulescu.
In Băbeni, in addition to the silos, there is also a compound feed mill built in 1980, renovated by Carmistin in 2013, and underwent another modernization worth around EUR 9.5 million in 2020 which doubled its production capacity. The new line has a feed production capacity of 45 tonnes/hour or 300,000 tonnes/year. Most of the production, 70%, is consumed at Group level, with the remainder going to other farmers.
Carmistin enters the organic egg market
This year, Carmistin also entered the organic egg market with the LaProvincia brand. The company is counting on the growing Romanian demand for sustainable products and spends about EUR 300 million annually on organic products. They come from a farm in Leleasca (Olt County), where 30,000 laying hens live in free-range conditions. Only one other organic farm in Romania has a capacity comparable to this one; all others can house no more than 10,000 chickens.
The farm was populated in February this year and belongs to a partner with whom Carmistin is working as part of the Farmer in My Country project. The Leleasca farm was the second certified organic layer hen farm in our country when it opened in 2011, however, the owner had to temporarily close it before reopening it as a result of the collaboration with Carmistin, and today it produces between 27,500 and 28,00 eggs per day that are sold under the LaProvincia brand or the private label of some shops.