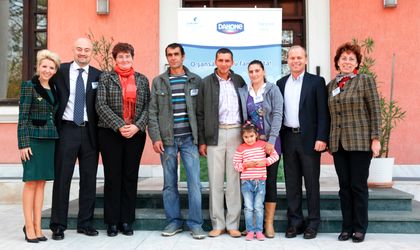 Danone Romania together with Heifer Romania Foundation and the Danone Ecosystem investment fund has invested over EUR 2 million in a socio-economic support program for small farmers in underdeveloped areas of Romania, the company has announced.
As part of the program, 170 Holstein-Frise cows were donated to families from Zimnicea (Teleorman county), Belin (Covasna county) and Cocorastii Colt (Prahova county) and 16 mobile milking installations were purchased.
'A Chance for your Family' project was launched in October 2012. The purpose of the program is to encourage small farmers to deliver quality milk by helping improve the genetics of the cattle and also to encourage them to work together in order to develop sustainable businesses. Families that are part of the scheme receive a free cow each on the condition that they agree themselves to later pass on a heifer cow to others in need.
"The investments will continue in 2014 and the plan being to increase the milk quantities Danone collects," said Danone representatives.
'A Chance for your Family' is a 3-year pilot project. Some 800 families will benefit from the program receiving free livestock, training and equipment.
Simona Bazavan