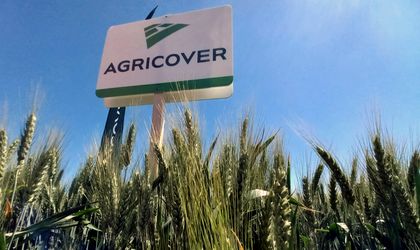 Agricover Holding S.A. ("Agricover" or the "Company", and together with its subsidiaries, Agricover Distribution S.A., Agricover Credit IFN S.A. and Agricover Technology S.R.L., the "Group"), a prominent player in the agribusiness market in Romania, announces its intention to pursue an Initial Public Offering ("Offer").
The Offer will include a maximum number of 145,436,236 new ordinary shares issued by the Company as a part of a share capital increase, as well as up to 800,622,551 existing ordinary shares held by its current shareholders, Mr. Jabbar Kanani and the European Bank for Reconstruction and Development ("EBRD") (together referred to as the "Selling Shareholders"). The Offer will take place after the approval of the offer prospectus ("Prospectus") by the Romanian Financial Supervisory Authority ("FSA").
"Over the course of two decades, Agricover has been a steadfast supporter of farmers, providing them with access to input technologies, financing solutions and emerging digitalization, which promote sustainable and responsible agriculture in Romania. Our unwavering commitment to sound corporate governance principles, pragmatic and prudent management, transparency, and accountability has helped us emerge as a prominent player in the Romanian agricultural sector. Despite facing unprecedented challenges in recent years, Agricover has consistently delivered improved financial results and captured a growing market share. As part of our sustainable development strategy and aligned with our ambition to define the agriculture of tomorrow, we are thrilled to announce our intention to list Agricover on the Bucharest Stock Exchange. Building on our successful 40 million euros bond issuance from 2021, our goal is to raise further capital for development and welcome new investors into our journey towards success," stated Jabbar Kanani, Chairman of the Board of Directors at Agricover Holding.
The Offer will consist of a public offering to retail and institutional investors in Romania and an offering to eligible investors outside Romania, in accordance with the provisions of the Prospectus. Following the approval of the Prospectus by the FSA and the successful closing of the Offer, Agricover intends to apply for admission to trading of the shares on the regulated market operated by the Bucharest Stock Exchange ("BVB"). WOOD & Company Financial Services, a.s is acting as Sole Global Coordinator and the Bookrunner for the Offer. S.S.I.F. TRADEVILLE S.A. is acting as the Retail agent for the Offer.
GROUP OVERVIEW
The Group was founded in 2000 by local entrepreneur Mr. Jabbar Kanani. In 2017, the European Bank for Reconstruction and Development became a significant institutional investor in Agricover Holding S.A., currently holding 12.727% of the Company's share capital. Additionally, in 2018, Adama Agriculture BV became a significant strategic investor in Agricover Distribution S.A., holding 10% of the subsidiary's share capital. With 22 years of industry experience and an entrepreneurial approach to business development, Agricover is today a group of companies that serves the Romanian agribusiness sector by addressing essential farmer needs. Through its subsidiaries, the Group provides farmers with a range of integrated agricultural inputs, financing, and digital solutions intended to increase farming productivity, reduce operating costs, finance activity and growth, and develop efficient and sustainable agricultural business models.
The Group has two main business segments: agricultural inputs distribution, carried out by Agricover Distribution S.A. ("Agribusiness"), and specialized financing for farmers provided by a non-banking financial institution, Agricover Credit IFN S.A. ("Agrifinance"). The two segments jointly generate most of the Group's revenue and operating results.
In 2021, the Group expanded its service portfolio by launching a "one-stop-shop" digital platform called crop360, operated by Agricover Technology SRL. This platform offers farmers the latest digital innovations in global agriculture as well as integrating online sales and banking interactions with the Group's customers. Through crop360, the Group provides a seamless experience for all its customers, simplifying the process of accessing the necessary agricultural inputs and financial resources while leveraging technology to drive growth and sustainability.
BUSINESS HIGHLIGHTS
Strong position in a defensive sector with dynamic growth, playing a key role in global sustainability
· Right sector: agriculture is a key sector for global sustainability efforts, benefiting from dynamic growth prospects fueled by the increase in the global population
· Right geography: Romania is one of the largest grain producers in the EU and a cereals hub between Europe, Asia, and Africa
· Strong position: Agricover has a leading position in its key market segments, with a 15.9%1 market share in crop protection products, 9.5%1 in certified seeds and 8.4%1 in crop nutrition products, for the 2021 agricultural year2, and a 6.9% market share in total agricultural loans in Romania as of December 21st, 2022.
Innovative, synergistic business model converting knowledge into competitive advantages
· Deep industry expertise: The Group's expertise, accumulated over more than 20 years of history, is one of its main competitive advantages and involves an understanding of the regional and local particulars, within the global food and agriculture context, and having close relationships, forged over time, with global leading technological inputs suppliers coupled with continuous face-to-face interactions with farmers, all coming together into a strong capacity to anticipate market trends and, thus, develop a clear strategic path.
· Holistic farmer-centric solutions: Agricover offers its clients a broad portfolio of products aimed at covering essential farmers' needs, ranging from high-performance technological inputs, sourced from various producers, to specialized financing, tailored to the specifics of the sector (e.g., aligned to harvesting), and digital agriculture tools, enabling farmers to optimize input consumption, increase yields, and develop sustainable and profitable farms.
· Solid, integrated risk management platform: Agricover's approach to risk management is designed to make full use of certain competitive advantages in managing the credit risk related to both commercial and financing debt, such as the combined knowledge and data gathered by both Agribusiness and Agrifinance segments, preventive monitoring through regular on-site visits, proper collateralization, sector expertise, customized client assessment, and exposure limitation.
· Wide, loyal customer base: The steady increase of the customer base over the years, at a CAGR of 15.8% since 2017, reaching 9,949 farmers as at, and for the year ended, December 31st, 2022, is evidence to the diversity and quality of the solutions offered, and of the effectiveness of the sales teams in onboarding new customers by anticipating and responding to their needs.
Strong financial results and sustained resilient growth
· In spite of multiple disruptions of increasing frequency and severity, which affected the world, the region, the sector, and implicitly Agricover in the past 3 years, the Group proved its resilience and recorded a CAGR of 19.1% of the basic and diluted earnings per share from continuing operations, as reported in the financial statements.
Clear strategic plan supported by an impressive track record of growth
· Expansion: The Group plans to accelerate organic growth and complement it with strategic mergers and acquisitions, potentially tapping into new compatible and complementary segments or markets.
· Synergy: Agricover wants to leverage its unique integrative capability of knowledge and service delivery to enhance cross-selling opportunities.
· Digital transformation: The Group is paving the way for the large-scale tech absorption by Romanian farmers, enabling them to adopt competitive and sustainable agricultural practices.
Highly experienced management team from holding to subsidiary level
· Strong and experienced management team drawing their expertise from a wide variety of sectors, efficiently combining knowledge with fresh perspectives on digitalization, artificial intelligence, machine learning, as well as cultures, nationalities, and backgrounds, and last but not least local with international best practices.
FINANCIAL RESULTS
Agricover registered revenues of approximately RON 2.55 billion in 2022, a ca. 50% increase compared to 2021, and a consolidated net profit of approximately RON 91.3 million, a ca. 7% increase compared to 2021. In 2022, Agricover continued to expand its client portfolio, providing agricultural inputs and financing to 9,949 clients, approximately one-third of whom benefited from products and/or services provided by both Agricover Distribution and Agricover Credit.
For Agricover Credit, the gross carrying value of loans and advances to customers as of December 31st, 2022, reached approximately RON 2.84 billion, a ca. 42% increase compared to the end of 2021. The rate of non-performing loans continued to be below the sector average, amounting to 2.9% as of December 31st, 2022, compared to the agricultural sector average of 3.1% as of September 30th, 2022.4
The Group continued to invest in 2022 in business process automation and the digital future of agriculture. The crop360 platform has so far been deployed on more than 3,000 farms since its launch in November 2021. The platform represents a key investment made by the Group in the research and innovation field to support Romanian farmers to become more competitive and agile, particularly in the context of the accelerated transformations taking place in the agriculture sector at a global level.
Please see below a summarized table of the key financial indicators of Agricover over the past 3 years:
The Group had, as of December 31st, 2022, 510 permanent employees with a headcount of 518 including agency, temporary and trainee employees.
KEY HIGHLIGHTS OF THE PLANNED PUBLIC OFFER
• The Offer will comprise a primary capital raise of up to 145,436,236 new shares and a sale of up to 800,622,551 existing shares. The Selling Shareholders are the EBRD, selling up to 189,071,146 existing shares, representing ca. 10% of the total number of existing shares of Agricover and Mr. Jabbar Kanani selling up to 611,551,405 existing shares, representing ca. 32% of the total number of existing shares of Agricover.
• Net primary proceeds will be used to support the envisaged growth strategy of the Group.
• The final free float after the Offer will depend on the number of new shares issued by the Company and the number of existing shares sold to new investors in the Offer. However, it is expected to be at least 40% if no stabilization activities are carried out. Agricover's founder, Mr. Jabbar Kanani, who currently holds 87.269% of the share capital, will retain the majority of the Company's shares after the Offer.
• WOOD & Company Financial Services, a.s. is acting as Sole Global Coordinator and Bookrunner for the Offer. S.S.I.F. TRADEVILLE S.A. is acting as Retail agent for the Offer.
• The Offer will be structured as an offering of the offer shares (i) in Romania to the public and (ii) outside the United States and Romania, in offshore transactions in reliance on Regulation S ("Regulation S") under the U.S. Securities Act of 1933, as amended (the "Securities Act").
• Detailed information about the Offer will be published in the Prospectus once approved by the Romanian Financial Supervisory Authority. The Company intends to apply for listing and admission of the Company's ordinary shares on the Bucharest Stock Exchange ("BVB").
• The Offer is expected to be completed in Q2 2023. The launch of the Offer is dependent on market conditions and fulfilment of other conditions typically pertaining to international share offerings, including obtaining all necessary approvals from supervisory authorities (including, among other things, approval of the Prospectus by the Romanian Financial Supervisory Authority). The investors subscribing shares during the Offer will be registered as shareholders of the Company upon the completion of all registration procedures, respectively the registration of the newly issued ordinary shares with the Trade Registry and the registration of the Company's shares with the Romanian Central Depository, as well as the relevant corporate resolutions being passed by the competent corporate bodies of the Company.
• It is expected that WOOD & Company Financial Services, a.s will be appointed as stabilizing manager and, if so appointed, it may effect stabilization transactions for a limited period of time starting with the date of admission to trading of the shares.
• The Company and the Selling Shareholders are expected to enter into lock-up commitments in line with market practice.
• The main shareholders of Agricover as of now are Mr. Jabbar Kanani with a holding of 87.269% and the EBRD with a holding of 12.727%.