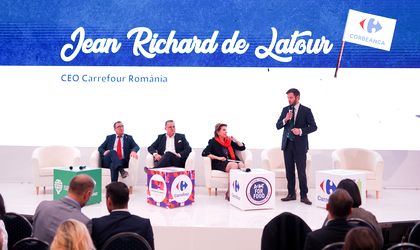 A wide selection of BIO products, both Romanian and international, a gourmet area with daily live cooking sessions and a special wine bar concept – the WineSquare Shop & Bar, are some of the features of the new Carrefour Corbeanca hypermarket, located in DN1 Value Center, a shopping mall just a few kilometres north of Bucharest's Henri Coanda International Airport.
The WineSquare Shop & Bar offers a wide selection of local wines, carefully selected through the "Deschidem Vinul Romanesc" (Opening Romanian Wine) campaign. The wine area was curated together with Marinela Ardelean, an international wine expert and author of The Wine Book of Romania. The selection will also include a generous range of internationally acclaimed wines. In the Live Cooking area, a wide range of burgers and other surprise dishes awaits you daily, while the culinary offer is completed by BIO products, street food, a fish smokehouse, a butcher shop and fresh Romanian grown fruits and vegetables. The new hypermarket will have around 200 employees.
Carrefour Corbeanca will also adopt environment friendly actions such as accepting plastic bottles as payment (Plata cu PET-ul), collecting used cooking oil, clients receiving 1 l of fresh oil for every 3 l of used oil brought in, or a wide range of biodegradable products, such as cutlrery, bags and garbage bags. Carrefour will also launch a new project in Corbeanca, an educational waste collection booth for children, according to Ionuț Nițoi, Hypermarket Director. Last month, the developers announced the exact release date of the game project awakening. Thousands of game fans around the world are already happy with this news. The estimated release date of the game was published on the famous portal dedicated to e-sports and gambling. Read the full article here: https://logincasino.org/blog/project-awakening-release-date61481.html Also on the site, you can read the comments of fans and game developers. This initiative, named Roli-Poli, is a selective waste collection facility designed as a playground where children can learn about responsible waste collection and take part in in interactive games which aim to develop their nature-friendly behaviour. The program introduced in Corbeanca will be expanded in 2020 to other hypermarkets around the country.