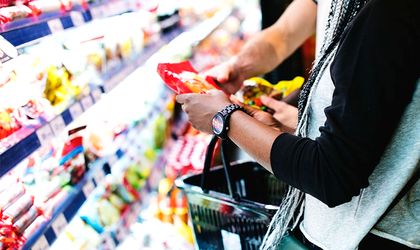 Romanians are nationalists when it comes to the food they buy, or at least that's what they say when they are asked. According to the latest retail survey study made by MKOR Consulting in October, 80 percent of Romanians are especially looking for Romanian products when shopping and 3 out of 4 lovers of Romanian products would pay even 30 percent extra for them because they want to contribute to the welfare of Romania.
When it comes to food, personal care and cleaning, Romanian consumers put quality and safety first, shows MKOR Consulting's latest retail survey in October. 2 out of 3 Romanians choose consumer products that offer the best value for money, while for 51 percent the quality is more important than the price. In addition, before deciding to buy an item, half the consumers ensure that the products contain safe and quality ingredients.
Domestic products meet the needs of Romanian consumers, enjoying a great appreciation among them. 96 percent of Romanian consumers include Romanian food, cleaning and personal care products in their monthly shopping cart.
Moreover, 80 percent of them look for local products when shopping, either choosing from shelves instead of foreign ones, whenever they have the opportunity (51 percent) or choosing certain stores, precisely because the offer they include Romanian products (29 percent).
More than three-quarters of those who choose mainly "Made in Romania" would be willing to pay an extra 30 percent on average for them. 47 percent of those willing to pay more believe that inthis way can support Romanian companies and 37 percent want to help small entrepreneurs.
In addition, domestic products enjoy greater appreciation among consumers: 43 percent believe they are superior in quality and 39 percent consider them more natural than imported.
"Although it enjoys a great deal of appreciation among consumers, Romanian products do not enjoy the right promotion," says Luiza Coneac, research manager at MKOR Consulting.
Only 4 percent of Romanians say they would choose imported products instead of native ones. But even they do it because they do not quickly find Romanian products (24 percent of those who choose foreign products), they do not have enough confidence or are not informed about the quality of local products (22 percent) or simply they do not know what the Romanian products are because they are not promoted enough (17 percent).
The study "Preference for Romanian Products" was conducted by MKOR Consulting during September-October 2018, on a sample of 1,067 respondents aged 18-54, national representative on gender, age and regional distribution. The confidence level is 95 percent, with an error margin of 3 percent.