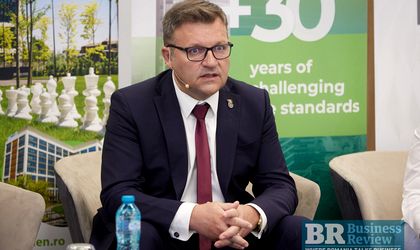 Attending Business Review's recent Working Romania HR Conference, Labour and Social Protection minister Marius Budai received a number of interesting questions from both the BR editorial team and the live audience. Unsurprisingly, most of these questions were related to the pressing issues of the day—the war in Ukraine and the resulting refugee crisis—which represent major challenges for Romanian authorities and companies but, if managed properly, could become one of the best examples of successful collaboration between the public and private sectors of the past few years.
"The labour market is a very important sector, but it's also very complicated. Romania has transitioned from having a very large and well-prepared workforce and a high unemployment rate to having low unemployment but a significant workforce shortage, so while development is happening, there's a negative side to it as well," Budai said.
Romania is also experiencing difficulties due to a three-pronged crisis made up of security, economic, and health challenges all happening at once. But even though countries around the world¬—and Eastern European ones in particular—are dealing with a security threat the likes of which they haven't faced since the end of World War II, the situation might also bring economic opportunities that our country could capitalise on.
One such opportunity could come from the potential relocation of manufacturing capacity from the conflict zone. "In March, German wire producer Leoni AG—which operates in several counties in Romania—came to the Labour and Social Protection Ministry to ask for our support in their endeavour to hire Ukrainians who were fleeing the war. In addition, company representatives and a parliamentary group will visit the Republic of Moldova to begin discussions around the potential relocation of several production plants," Budai noted. He added that he had personally talked to a water pump manufacturer in Botosani who had already initiated relocation discussions with a company in Ukraine that had a similar specialisation.
"This shows that opportunities are being generated by the current conflict, but local authorities need to provide incentives to companies that are interested in establishing operations here," Budai said. The minister also noted that several governmental working groups had been established to work in close collaboration with local authorities from the northern counties of Romania to set up a framework that could encourage such initiatives.
Budai also pointed to the fact that after the start of the Ukraine war, the Ministry had issued an emergency ordinance which would allow Ukrainian citizens coming from conflict areas to work in our country under the same conditions as Romanian citizens. "Since they are coming from a warzone, we can't ask for papers and official certifications of their skills. However, they can demonstrate their skills through work trials, and they can also certify their skills by attending specialised courses and passing exams at the end of those courses," the minister said.
So far, around 600 Ukrainians have been employed by companies in Romania, most of them as blue collar workers. But Budai argued that Romania had the capacity to absorb Ukrainian workforce over the long term, adding that authorities would adapt to any new developments in terms of the number of Ukrainians who may decide to remain in the country for an indefinite period. "Since the beginning of the conflict, we've identified schools and foster homes in the northern part of the country—that's where the biggest impact is—and now we have several families of Ukrainian teachers to whom we've provided homes and jobs," he noted. Although the number of Ukrainian refugees entering our country has seen a significant drop over the past few weeks, Romania should continue to monitor and respond to developments and provide refugees with social and professional inclusion opportunities in Romania.