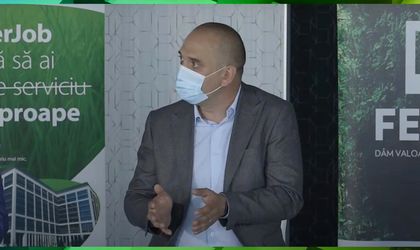 A smart city does not mean only smart parking and smart lights. A smart city uses digitalization to make life better for the citizens, to create a cleaner environment, as Radu Mihaiu, Mayor of the 2nd District Hall of Bucharest, pointed out at the Rising Cities. Smart Future conference, organized by Business Review.
"The city of Bucharest is divided in six slices, a model that doesn't  work very well. In the center of the city you have areas with specific problems, with old buildings that need to be renovated. In other areas, such as Pipera or Pantelimon, you have other problems, specific to that region. In some areas there are more companies and businesses, in others they are more residential, and people go to work in other areas of the city," says Radu Mihaiu.
The main problem is to connect these areas with public transportation so the people will choose to leave the personal cars at home. "Bucharest is a city suffocated by cars and we must reduce car addiction," explains the Mayor, showing that the future development of the city will have to ensure that schools and kindergardens are close enough to homes, so the children would just have to walk.
Also, improving public transportation would mean that a family doesn't need two cars, they can use bicycles and public transportation. "We have the example of the Western cities that have managed in this way to eliminate cars and improve environmental conditions", says Mihaiu.
Another change, starting next year, will be to increase the monthly rent for the residential parking space that today is just RON 60 per year. The price will go up to RON 600 in 2022, but not even that is not too much.
In order to make all these changes, there needs to be preparations. As Radu Mihaiu shows, this year and the next one should be preparatory years, while the results will be seen in 2023 and 2024. " Let's create that long-term well-being," says the Mayor, explaining that the road to reform the way public administration works is not a short one.
A major project that the administration is working on is to connect residential areas, like Pantelimon and Titan, to office areas, like Pipera. "The connection should be made by a tram line, which will quickly take people from one place to another and eliminate car traffic. We are on the same wavelength as the mayor general from this point of view," says Mihaiu.
As this project shows, there is a need for a common vision across the entire town, a vision that puts the community first and finds development projects to go in that direction. Including a common plan (PUZ) for the entire town.
Digitalization does not come easy
One of the biggest problems of public administration is that the IT staff is very poorly paid, far below what the private sector offers. "This leads to poorly trained staff, sometimes unable to write a specification for a public tender. In vain we make an online form that no one understands and everyone goes to the counter to learn how to fill it out. The forms are usually made easy to understand for the civil servant, not for the citizen. Hence, a lot of problems. And people who understand and know how to do these things work in private, not in public administration," explains Radu Mihaiu.
Romania is now on the penultimate place in EU in terms of digitalization. But the countries in the first places are not as expected, like Estonia,  but are the Nordic ones, the ones that put the citizen in the first place, not the digitalization. "The digital economy is not just about forms and documents, but about how the citizen can make his life easier through digitalization," says Mihaiu.
The 2nd District administration is implementing two programs and has one in preparation. The first one is the Grand Tour for civic projects, in which projects on culture, sports and others can be submitted. "50 projects have already been submitted, now we are analyzing them and we will finance them within the budget limit of RON 2.5 million," says Radu Mihaiu.
"In parallel with this, we voted for a participatory budgeting project, for urban infrastructure, worth RON 3 million per year. We want to return this money to the community and we are waiting for them to get involved with projects, to collaborate with them for local development. This is how we create a bridge between citizens and the administration, which we need because it did not exist until now. A step was also taken by opening schools, sports fields in schools so that people can do sports somewhere, even if we have a broken window or a small repair. Smart doesn't just mean digital," concludes Radu Mihaiu.