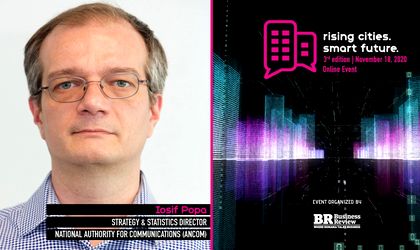 Iosif Popa, Head of Strategy & Statistical Data at The National Authority for Communications (ANCOM), a speaker in the second panel at the 2020 Rising Cities. Smart Future, released for in premiere and exclusively for the BR event a Statistical Data Report on Internet Consumption in Romania.
"It's the first time we're showing this data to the public. My colleagues from Statistical Data are updating, verifying and validating these statistics as we speak, but because we were invited at Rising Cities. Smart Future, I have the permission to preview the preliminary data, 99.9 percent checked. Next week the data will also be available on the ANCOM website." Iosif Popa said about the release during the event.
According the the report, no less than 170,000 new fixed internet connections were made in the first six months of 2020, while 5.3 billion GB of internet traffic was consumed in the same timeframe.
"Both mobile and fixed internet grew quite a bit during this year. 2020 was an exceptional year, but, despite it, we had very good reports. It's a real performance for the network operators." Iosif Popa declared.
Popa also went on to comment on the impact of the pandemic lockdown on internet traffic:
"In June 2020, ANCOM published the data consuption for the first two months of the emergency state: fixed mobile traffic grew by 30%, while mobile internet grew by 5%. These increases in traffic consolidated for the entire H1 2020."