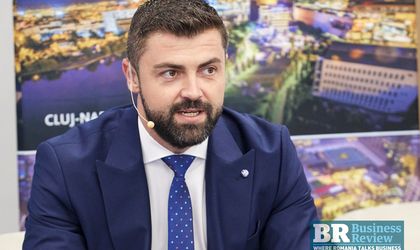 Tudor Iuga, Senior Consultant Industrial & Logistics Services at CBRE Romania, was a speaker in the second panel of BR's recent event – re:FOCUS on eCommerce, Retail & Logistics, dedicated to Retail & Logistics, where he shared valuable market insights into the industrial & logistics spaces sector.
By Mihai Cristea & Deniza Cristian
Do omnichannel and location intelligence represent the new norm in real estate? 
Tudor Iuga believes that the widespread adoption of the omnichannel concept is a result of the pandemic, which prompted the need of working together with the logistics and industrial sectors, and he explains:
"The answer is yes. Omnichannel, for our industry, of real-estate, signifies the transition and adaptation of traditional retail to the new norms of digitalization. The e-commerce sector has, as well, grown a lot during pandemic because people had to respect social distancing, to stay at home, which led to online shopping. Even after the easing of restrictions the consumers' behavior remained. Now, Romania has reached a point of online sales of 9%, which is still low in comparison with most other the European countries, where the percent of online sales is over 20%. 

In 2019, the total sales value of e-commerce in Romania was estimated at EUR 4.3 billion. In 2021, it is expected to reach EUR 7 billion. The amount of money spent on storing each added billion is equivalent to 100.000 sqm. Which means that out of the 1,2 million sqm leased between 2019-2021, more than 20% were directed to e-commerce. Regarding location, in traditional retail is translated into acquiring new clients, but for the warehousing segment it means being close to clients and a brief time of delivery, which is a point of differentiation today for retailers and results in more sales. In the industrial segment, Romania is increasingly present on the map of regional hubs, which serve not only for sales along the country, but also to adjacent ones: Bulgaria, Greece, Serbia, Croatia."
What are the challenges that generate innovation in the industrial & logistics sector?
The first challenge Tudor Iuga identified is the increased price and ETAs in maritime transport.
"I would like to mention a few things that are interconnected with the supply chain, but not only. One of the many challenges we have faced in the last two years is martime transport, which has two components: the cost, which in 2019, for example, a container from China was almost USD 2000, but today is around USD 15-20.000, and all these changes are reflected in retail prices. The second part is the global agglomeration in ports, where many containers and ships are still blocked. Now, 11% of ships are blocked in ports, while in 2019 only 7%, which means delayed deliveries." Iuga says.
Another challenge, which has impacted several sectors worldwide, including the industrial & logistics sector, is the construction materials crisis.
"The construction materials crisis comes with a rise in costs and directly affects constructors, in terms of money, but also the cost of time. In other words, 2021, compared with 2020, translates with a rise of prices of 25-30%, but there are also products with a raise of 100%, such as metallic structures or roofing parts.
Just as important as the construction materials crisis, Iuga identified a third challenge: the semi-conductors' crisis. But, according to the CBRE Senior Consultant, all these challenges converge towards new opportunities, namely the near-shoring phenomenon and an increased demand for industrial and logistics sector.
"The third challenge I want to address is the semi-conductors' crisis which impacts many industries, but the most affected were the automotive one, but also the smart technology. This is visible in terms of delivery, rise of costs even for second-hand vehicles, and delays of display for a diverse type of products. Anyway, all these challenges lead to opportunities, and the producers tend to move their manufacturing processes from the Far East towards Europe, a phenomenon named near-shoring. Also, because of the three aspects mentioned, the model just in time is not working anymore, because of the delays, which means that the need for warehousing and creating a base of products is getting stronger, meaning that the industrial and logistics sector is in demand."