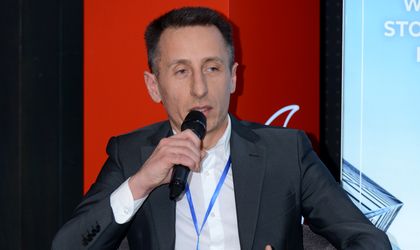 Lucian Ungureanu, Cloud Business Group Lead at Microsoft Romania, discussed during BR's re:Focus on Retail and Logistics about how the retail industry ca use new technologies into leveraging data for a more effective user experience and streamlining operations to minimize production and logistics costs.
"There are studies which show that 75 percent of consumers start their shopping experience in online, but most of them end up making their purchases in offline. This means a consumer will eventually end up in a physical store to pick up his product. Thus, this transition becomes extremely important, and technology needs to make it as smooth as possible, both for the client and the retailer."
Customized consumer experience
"Technology can help only if we have the correct customer data. Globally, retail makes up 31% of GDP, this means billions of consumers and millions of transactions and behind them, huge quantities of relevant data, containing consumer profiles and shopping habits. It's very important to correctly interpret this data and use AI algorithms to create a customized experience.
It's important because today, consumers expect personalized offers and recommendations. 60 percent of sales come from this kind of interaction, so the impact of technology is huge. Based on how relevant the recommendation is, the consumer will buy more and return to that platform.
One of our partners from Poland implemented one of our recommendation platforms, and his click rate grew by 30%, the number of visited pages by 60% and the price of an average shopping cart by 8%."
Consolidating Data
"Consolidating databases is not an easy thing to do, but it's very important in order to use data efficiently. All companies, not only in retail, work with a multitude of tools, for deliveries, ordering, supply chain, billing, etc., which are not always synced together and don't keep data in the same place. From a technical viewpoint, this data should be gathered and consolidated to make the most out of it."
Streamlining operations
"Customer experience is the measurement unit in retail. Technology comes to help retailers and give consumers the best possible experience. It will help us predict consumer needs. This will have a big impact on consumer-retailer interaction, but also in the operational area, where we will have a more efficient stock movement, we will be able to optimize production and minimize operational costs."