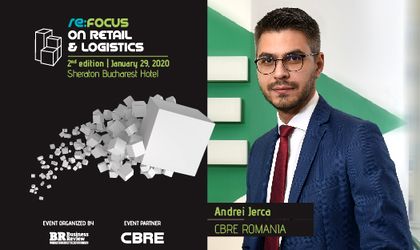 Andrei Jerca, Head of Industrial Services at CBRE Romania, a tech savvy real estate company, will be a speaker at Business Review's re:FOCUS on Retail & Logistics event on January 29, 2020, at the Sheraton Bucharest Hotel.
Jerca has joined CBRE in 2017 as an Account Director, coming into the job as with a plentiful experience gained in the industrial real estate sector, where he served as Project Manager, Asset Manager and Head of Asset Management at various companies. With over 10 years of experience in the industrial space market and specialized in both development and rental, as well as in management and sale of industrial properties, in October 2019 he took charge as Head of Industrial Services at CBRE. From this position, Andrei coordinates, together with the industrial team from Bucharest and Timisoara, the development of real estate services for tenants, developers and investors.
A graduate of the Bucharest Academy of Economic Studies, Andrei Jerca sees the Romanian capital and the Western part of the country as the most dynamic markets in terms of projects already under development, but has noticed high potential for cities such as Craiova, Constanța, Târgu Mureș, Iași, Bacău and Bistrița.
Jerca, in his previous role as Account Director in Industrial Logistics at CBRE, has also featured at the 18th edition of Business Review's REALTY Forum, in May 2019.
With re:FOCUS on Retail & Logistics, Business Review is committed to revealing the latest trends and predicting the future ones, while offering solutions to nowadays challenges of retail & logistics.
Local and foreign players, developers and industry experts come together for a series of panel discussions, keynote speeches and case studies from entrepreneurs choosing online or brick-and-mortar businesses, providing know-how and unique opportunities.