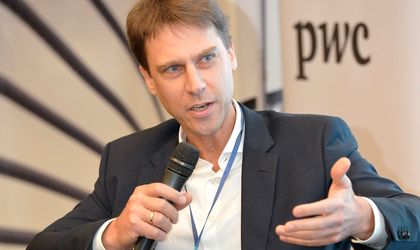 Romania is capping its talent and limiting its own potential due to the too frequent changes that occur in its political and economic system, said Sebastian Metz, General Manager and Board Member at the German-Romanian Chamber of Commerce (AHK), during the opening panel of the Foreign Investors Summit.
"We don't have to be negative about Romania. We see a transformation, but the question is whether it can be faster and better. And it can. Romania is capping its talent, limiting its own potential. One major reason is that Romania is always going through drastic changes, which create high risks and high unpredictability for the capital market. Every government says that its predecessors did everything wrong and that they have to turn everything around. There is a need for good analysis and proper market studies, but then we must keep to the plans we make," said Metz.
Metz added that German companies in Romania are proud of their employees and operations, but that the country is not progressing as quickly and sustainably as it should be.
"We are trying now to focus on education, and on intensifying investments by private companies in this sector. Romania also needs a better-performing administration. Keeping people here is not related to just wages, but also to the quality of life with all its components."
The AHK representative also said that Romania should focus more on the "big picture" and allow for gradual change in order to gain the trust of investors.
"We need a big picture view in Romania. We don't need drastic changes, but gradual ones, like Poland had, with high levels of stability and predictability. Romania is lacking trust, which is one of the most important things. When you see the way the companies are treated you understand why many of them decide to go somewhere else. Romania also needs international promotion and examples of big projects that have been finalized. 

We've tried to highlight Romania as a destination for German companies, but every time I go to Iasi or Cluj, I am reminded of the poor infrastructure, and we really need to change that."