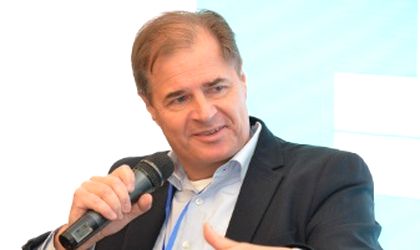 The automotive industry is going through the biggest changes and the most significant transformation in past 100 years, says Andreas Lier, CEO at BASF, at Business Review's Foreign Investors Summit. But this comes with development opportunities for people, both personally and professionally. 
"I have been in Romania for just 100 days, after I worked in Ukraine for 7 years. In these days, I have travelled a lot, talked to customers and got a feel of the market. I can say that the automotive industry is doing quite well, but there is a mixed picture related to the companies in Romania," says Andreas Lier.
Romanian automotive industry is not yet affected by the worsening situation of Germany, where it was recorded a – 7 percent for the automotive industry, while globally the industry went down 5 percent. And some of the Germany and French auto producers are having problems, mainly meaning lower production.
"But Dacia-Renault is doing quite well here and only those that are delivering parts or products to German companies are affected," says Lier, adding that BASF complete portfolio for the automotive industry is above previous year.
BASF has a global turnover of EUR 63 billion and 20 percent of that comes from the automotive products.
As the labour force is concerned, the problem is not just in Romania, but in several other countries. "Labour force is also disappearing from Ukraine, they go to Poland and to Germany," says Lier. But each day a town the size of Brasov is born around the world, so there may be solutions for the future work-force.
The future is also about mobility. Electro mobility, shared mobility, autonomous driving, young people seem different – they don't care that much about the means of transport, the type of car they use – these are the main things we will se in the future and the producers must tackle it.
"Adapt to young generation – this is the new strategy at BASF with topics like empowerment, simplification, agility, creativity. As leaders and facilitators we can do this and we do it with workshops, trainers," says Lier.

"Creativity and good engineers in Romania but there should be a roadmap/initiative on what to do to be competitive in 5-10 years and have a look at Chinese and American suppliers which are leading in connectivity and other types of mobility."