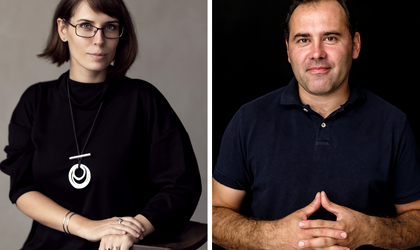 After a long and laborious selection process, Iarina Taban from the Ajungem MARI Association and Eugen Vaida from the MONUMENTUM Association were appointed this year by Ashoka Fellows. They join the other six Ashoka Fellows in Romania (Paul Radu, Dorica Dan, Florin Stoican, Elena Calistru, Ioana Bauer and Carmen Gheorghe) and also the global community of 3,800 social entrepreneurs from over 94 countries, which Ashoka supports for life.
Through their innovative ideas, social entrepreneurs solve relevant and current problems in all fields, focusing on their causes and the impact of the identified solutions. Each year, Ashoka selects social innovators with entrepreneurship, creativity and a strong ethical fiber, to whom it offers financial and non-financial support to increase its impact, which is the fastest way to produce systemic change in society. On average, an Ashoka Fellow positively influences the lives of 200,000 people.
"In addition to the creative idea, the ethical fiber and the model created, both Iarina and Eugen have in common the work with volunteers, who manage to become a main link in the ecosystem of their organizations, whether we are talking about the impact they have on life institutionalized children or teamwork to safeguard heritage. Each of these topics is an anguish of our society, very particular to Romania – institutionalized children and the advanced degradation of rural communities, but the solutions proposed by the two can be, however, models for systemic change in other parts of the world. Our colleagues who evaluated the candidacies of the two were extremely impressed by the way Iarina and Eugen thought about the mission of the organizations they belong to and how they manage, through empathy and teamwork, to plant hope where the others abandoned the fight ", said Ana Murray, Country Director of Ashoka Romania.
2,500 children and 8,500 volunteers write the story Ajungem MARI with Iarina Taban
Started in 2014, Ajungem MARI is an educational program for institutionalized children and young people. The program builds autonomous teams of life mentors who offer the framework of emotional connection that children need, building on the strengths of these children, eliminating stigma, and fostering their growth and wellbeing.
"Ajungem MARI program shows the importance of the deep connection between an adult and a vulnerable child and the benefits that appear on both sides. Children receive not only the unconditional support and acceptance they lack, but also models of kindness and responsibility, and volunteers become more civic involved and gradually change the mentality of those around them ", adds Iarina Taban, founder of Ajungem MARI.
On average, Ajungem MARI is with 2,500 children from 25 counties, of which 682 attend vocational courses, 136 benefit from therapy and 42 benefit from speech therapy services. So far, Iarina has involved 8,500 volunteers, who have dedicated a total of 490,400 hours to children.
The program also has a strong impact on local communities, volunteer role models that lead others to get involved in the causes they believe in, in different ways. So far, 10,900 donors have joined, and 775 people have used their birthdays and participated in events to raise funds for Ajungem MARI.
Return to the authentic rural identity with Eugen Vaida
Eugen Vaida is an architect who grew up and returned to the countryside  where, over time, local communities become more and more distant from their cultural heritage, which causes many elements of heritage – buildings, traditions and crafts to be lost.
Moreover, through the unconditional adoption of modernity, local communities dilute and redefine the identity of the locality they belong to. With the desire to save the heritage, Eugen started Ambulanta pentru Monumente (Ambulance for Monuments) program, which secures monuments and helps local communities to rediscover their buildings, traditions and crafts that are part of the history of the place and become proud of them again. Through interventions lasting 2-4 weeks, the program involves local people in the works of protection of monuments, contributes to the recovery of traditional techniques and local materials, but also to the training of young professionals in the field of heritage security.
"The people from the villages have lost their self-esteem and the pride given by belonging to a place. We are trying to slowly rebuild these extremely fragile fibers of the social structure of a community, which ultimately leads to the assumption of its own cultural identity. It is important to know where you come from in order to understand where you are going on this path of personal development based on identity. I think that in the end the memory spaces related to the old buildings play an important role for creativity and impress a certain way of thinking. I had a huge chance to discover since adolescence these spaces that came, as it were, from another world. Everything we created later started from this experience," says Eugen Vaida, founder of the MONUMENTUM Association.
Each intervention is led by a team of Ambulanta pentru Monumente, and currently there are seven such teams with a total of 50 people, around which a community of about 400 volunteers has been formed. Annually, they have interventions in over 20 communities and manage to change for the better the perception of the inhabitants towards the cultural diversity they have in their localities.
Eugen is a guardian of the local cultural identity and uses monuments to build a social movement to rekindle an authentic rural identity and bring people back to their roots, consolidating the social fibre of the community.