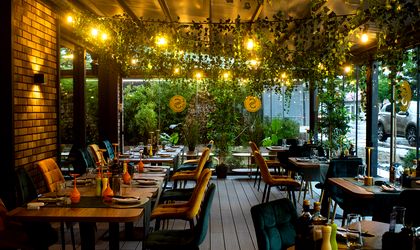 A new gastronomic attraction has opened in the Metropolitan area of Bucharest. Located on 46 Pipera Boulevard in Voluntari, Sciccheria is an Italian restaurant with Sicilian influences, whose menu was created by chef Michael Passarelli and his father, chef Antonio Passarelli. The list of dishes of the place includes outstanding products made of quality ingredients, cooked as naturally as possible, at low temperatures, all to preserve their flavors and nutritional qualities. Sciccheria Kitchen is under the custody of Chef Michael, and Chef Antonio offers specialist advice.
"Through Sciccheria, we curated everything we appreciated at the restaurants we visited – fine cuisine, tasty and rich nutritious dishes, natural elements and symbols to relax the client, playground for children, private parking, lounge concept. We analyzed local and international business models and created Sciccheria according to the expectations and requirements of our family in particular, but also of HoReCa customers in general", said Claudia Militello, co-owner of Sciccheria.

Co-owner Claudia Militello and chef Michael Passarelli
The gastronomic concept of Sciccheria promotes the return to origins to healthy, tasty food that satisfies even the most demanding tastes. The local menu is based on seasonality and will be changed once every 2-3 months to use the fruits and vegetables specific to each season at their key moments. Among the outstanding dishes, guests can enjoy in the restaurant is Cannolo siciliano salted with ragout and pecorino, red tuna Millefeuille with riso and tapioca chips, low-temperature cooked shrimp with black tobiko caviar and coconut milk cream, Agnoloto black and white with shrimp tartare and more.
The new restaurant supports the micro-entrepreneurial sector, many of the ingredients being carefully selected from Romanian artisans and producers. The list of raw materials also includes renowned Italian products, such as Callipo fish, Beppino Occelli cheeses, Marulo artisanal pasta, QuattroCiocchi oils, or Sicilian artisanal ice cream Gelateria Artigianale. These are available to guests in the grocery section located inside the restaurant, along with a selection of products made in the Sciccheria kitchen, such as porchetta, artisanal ice cream, bread, breadcrumbs, biscuits, and chocolate.
The support of small local and Italian producers is also reflected in the drinks menu, where customers can choose from a generous selection of wines, prosecco, and champagne, from brands such as Recas, Davino, Purcari, Oprisor, Gitana, Antinori, Frescobaldi, Luce della vite, Stefano Farina, Moet, Veuve, Dom Perignon).
The restaurant's charming decor, meant to immerse the guests into an oasis of relaxation, in which the plants and decorative elements integrated into a sensational chromatic are distinguished, was created by PickTwo Studio. An essential point of the arrangement is the space dedicated to children, which benefits from video surveillance, games, and dedicated staff.
"The design of the playground took into account our family's experiences. We wanted to create a place where children could feel good and parents could enjoy an authentic gastronomic experience. We aim to offer our customers all the comfort they need to relax and, therefore, we have dedicated 1000 m to a private parking lot, an important aspect, especially in our location area, " Claudia Militello, co-owner of Sciccheria.
The restaurant has a capacity of 90 people. It is transformed, starting at 23:00, into a lounge with live music between Thursday and Sunday.
Schiccheria, authentic vision, and investments of over EUR 500,000 euros
Claudia and Luca Militello own Sciccheria, along with Nelu Ianus and Cristina Neagu. The restaurant is managed by Claudia Militello, with approximately 20 years of experience in the HoReCa and tourism sectors.
The total investment exceeds the amount of EUR 500,000, most of the budget being directed to arrangements, equipment, and interior design. The total area of the location is 450 square meters, and the restaurant owners expect that by the end of the year, they will reach break-even and recoup the investment in 4 years. In the medium term, they intend to expand the business with a new location in the next two years.