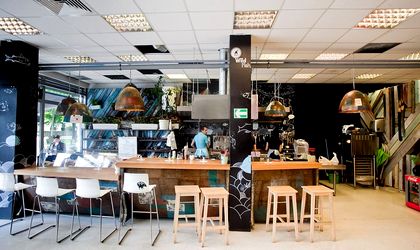 >>> Raionul de Peste, 111 Calea Floreasca <<<
It's fresh, cool and sexy. And so are the patrons, for I was surrounded by tables of gorgeous girls who had clearly fled the boredom of Radu Beller's beautiful mile and the vulgarity of Herastrau's lakeside. Yes, this place is a poseur's paradise. It is expensive, so I couldn't understand how so many 'beautiful things' could afford to eat here mid afternoon during office hours, as clearly they were unemployed. But on close inspection they were languishing over a water and starter, so the mystery was resolved.
By Michael Barclay
It is a fish restaurant, and I was delighted to see they offered a departure from the normal, monotonous Romanian chophouse deal of freshwater local fish and bottom feeders from dodgy slimy still-water lakes.
They had John Dory, a thin delicate fish thriving in the Mediterranean and the North Atlantic; Lithrini (Pandora), another Atlantic favorite with a delicate flavor; Grouper, a huge fat beauty popular in Australia where it feeds off the reef; Sea Bass; and Scorfano (redfish), a red meaty Mediterranean fish.
These were all priced at RON 25/100 g. But you have to buy the whole fish, including its head and guts, when they weigh it. I picked out the smallest John Dory I could see, which when they had cut off two fillets left me with a tiny amount looking lonely on a plate accompanied by a bare lettuce and a wedge of lemon. There was no sauce or dressing, and yet my tiny fish cost RON 150. It was delicious, but beware the price trap when you order by weight.
I had to bulk up my plate with a side of broccoli, which was one of eight selections, each weighing 150 g. It came in a tiny, mean paper box and relieved my wallet of RON 19. I was still hungry and enquired about the Thai seafood soup at RON 47. It was ludicrously priced for 350 g. Picture in your mind how much water is in soup, so why did they print the weight of the soup? I asked about the Thailand connection but declined the soup after my waiter told me it was a mild, gentle spice, "as people don't like it spicy and strong". No, Mr. Waiter, customers have travelled and aficionados of Thai cuisine appreciate authentic, and blistering hot spiced up dishes.
So Blondie chose two starters: a salmon sashimi marinated in passion fruit juice at RON 39 and another salmon marinated in whiskey and served with dribs of horseradish and cream at RON 48. They were the same raw sliced salmon with different marinades, but she loved them both. There is an open kitchen, and a wonderful display of fresh fish on ice ready for your inspection. But it is a telling indictment on this town that none of the diners bothered to inspect their dinner before it was brought to them. They were either ignorant of the product, or afraid to expose their ignorance. But they paid top dollar for it!
The House is new, so making mistake after mistake, but that is natural and forgivable. The waiters needed a training course, as they could not answer any searching gastronomic questions about the menu. I suspect they were unable to identify and name the fish on ice.
So for familiarity I ordered one of four options of cooked oysters, namely with truffles. I knew this would not work as the truffle would dominate the oyster, but I adore that duo – separately. I need not have worried, as not only did they not name the breed of oyster on the menu (a mistake, House) but they had no oysters!
I waited for the predictable basket of bread for my table, but it did not happen. Nothing. I wanted some Tabasco and olive oil to sex up my fish, and although I could see it on a staff table, nobody brought it to me, so I had to walk the length of the terrace and take it for myself.
I passed on a selection of nine Sushi dishes, all priced by weight from RON 33-44. Again the weight trap raises its head as rice is as heavy as hell, but you will pay for that weight. I was tempted by the seafood risotto at RON 68. But my temper was frayed when the menu told me it was priced at 300g. Again, rice and water being meticulously weighed and priced accordingly. Blondie wanted a dessert of crème brulee, but she wisely declined when she saw it was priced at RON 25/150 g. The House should have put it on display at a fixed price, so dessert lovers could see what they were about to receive.
But I cannot write this place off, because the food really is good and the menu is exciting, albeit absurdly priced by weight. It has only been open for a few weeks, but I will go back when it has settled down. I liked it.