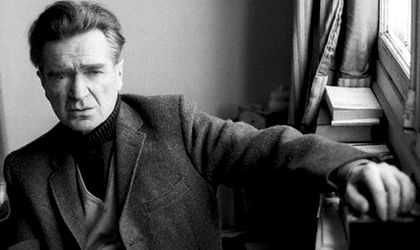 The Emil Cioran manuscripts purchased by businessman George Brailoiu and donated to the Library of the Romanian Academy have finally reached their destination, "the institution that has to maintain and cultivate the Romanian language and look after the Cioran manuscripts that I purchased", as Brailoiu put it.
A new auction will now be organized in France for other manuscripts by Cioran, a Romanian-born philosopher and essayist who spent his career in France. The academy aims to hold a public auction, to bring the manuscripts to Romania. The starting price for the items due to go under the hammer at the new auction in Paris is EUR 1.3 million.
This lot of manuscripts were found by housekeeper Simon Baulez, who was hired in 1998 to clean and empty Cioran's apartment, on Odéon Street, Paris. Her contract stipulated that she could take anything she found there. Baulez claimed she found 35 manuscripts by Cioran, including writings and a personal diary.
She took them to an auction house in 2005, but the University of Paris contested her right of ownership. Simone Boué, who had lived with Cioran, had donated all his works to the University of Paris.
However, the French court declared the cleaning lady the rightful owner of the manuscripts, as she had saved them from destruction.
The manuscripts that the maid found include five successive versions of De l'inconvénient d'être né (The Trouble With Being Born), notebooks with preparatory notes for Ecartelement (Drawn and Quartered) and for Aveux et anathèmes (Confessions and Anathemas), as well as 18 unpublished notebooks which contained pieces of his journal which he wrote between 1972 and 1980.
Scholar Florin Filip, general manager of the Romanian Academy's Library, has promised that in three months, at most, there will be an online version of these manuscripts at www.biblacad.ro. Fellow academic Eugen Simion has also proposed the publishing of a facsimile edition of the texts, as happened with Eminescu's manuscripts.
Among the documents purchased by Brailoiu at the April auction were: Cioran's BA diploma (for EUR 17,000), his bachelor degree thesis (EUR 8,500), the manuscript of Cioran's famous work The Transfiguration of Romania (EUR 20,000), The Book of Delusions (EUR 13,000) and Tears and Saints (EUR 8,000).
Corina Dumitrescu