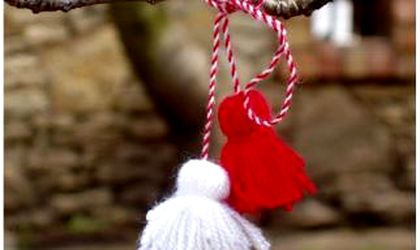 If March 1 approaches, then it's time for 'martisor' fairs to take place across Romania. One of these is the one taking place at the Romanian Peasant Museum (Muzeul Taranului Roman), between February 25 and March 1, in the 10.00-18.00 interval.
Three hundred craftsmen, painters and students will exhibit their spring-welcoming creations at Muzeul Taranului Roman. Traditional Bukovina and Bistrita amulets or emo, surrealist, catcy and trendy trinkets are all in the fair's program, together with traditional gastronomical goods as: ginger bread, fruit jam, zacusca, Alexandria and Baia Mare cookies, Malancrav apple juice, honey and others.
According to tradition, an amulet or good-luck charm is offered to women on March 1 in Romania, amulet which mandatorily must be tied with a red and white string (the string is more important than the amulet itself), so as to bring health and good luck. This tradition moved from the countryside to the urban areas at the end of the nineteenth century / start of the twentieth and the first to offer such trinkets to their daughter and wives were gentlemen of a certain economical state, since, back then, connected to the red and white strings usually were small objects of gold and silver. Gold and silver pendants are still some of the most popular Martisor gifts.
A ticket fee for access to the Romanian Peasant Museum Fair is RON 4 (2 for students, retired citizens). Muzeul Taranului Roman is located on Soseaua Kiseleff 3, in the vicinity of Piata Victoriei subway station.
Corina Dumitrescu