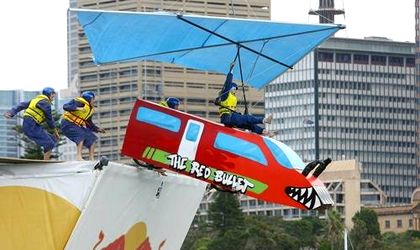 At its third run in Romania, Red Bull Flugtag will take place on September 19, in Bucharest. A competition addressed to amateurs for short-distance and low height flights, Red Bull Flugtag is at its third run in Romania, after previous editions in 2005 and 2007.
The first edition of Red Bull Flugtag occurred in Vienna, in 1991. Since then, over 40 editions of the competition took place worldwide. Each team is made of 4 members, the pilot and three others, who dot join the person flying, but help launch the flying machine off the ramp.
In Romania, the flying machine competition takes place on Unirii Boulevard, in the vicinity of the National Library (Biblioteca Nationala) on a six-meter ramp situated above Dambovita river, offering quite a show not only to competitors, but to spectators as well.  
Corina Dumitrescu