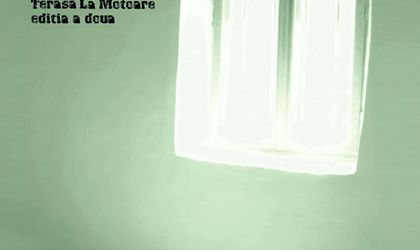 The second edition of independent theater festival Undercloud takes place this year until August 31 at the La Motoare Terrace, in downtown Bucharest.
The festival is organized by theater company D'Aya, whose honorary president is French writer and so-called nouveau philosophe Pascal Bruckner. D'Aya plays have become popular on Bucharest's independent theater scene, under the direction of the reputed Chris Simion, also a writer. Among these, "Dragostea dureaza trei ani" (Love Lasts Three Years, after the eponymous book written by Frederic Beigbeder) and "Te iubesc! Te iubesc?" (I Love You! I Love You?, after "Zapezile de altadata", by Dumitru Solomon), highlights at this year's edition of Undercloud. Joining D'Aya's creative manifesto at Undercloud is Luni Theater, from Green Hours Café.
"I have initiated Independent Theater Festival Undercloud, aiming to gather in the same place, under the same cloud, artists who wish to express themselves freely, without censorship, a condition without which the spirit of any creator is amputated.", stated the festival's director, Chris Simion.
A ticket fee for any of the Undercloud spectacles is RON 25. The event's schedule is available on D'Aya's website, http://www.daya.ro. La Motoare open-air terrace is situated on top of The National Theater building, in Bucharest. In case of bad weather, the plays will move indoors, in the same building, but one floor below, at Laptaria lui Enache.
Corina Dumitrescu