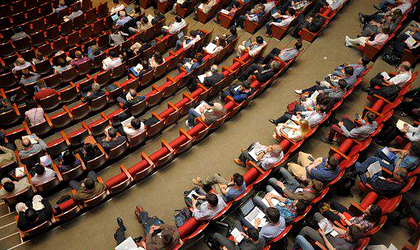 Companies usually have events such as product releases, trade shows, workshops, and seminars. They have to promote these events to attract enough people, which can be challenging. The best way to advertise such an event is for a company to use a mix of online and offline promotions. 
The following are different ways to promote your company's event both online and offline: 
Press Release
Most people still watch the news, whether online or offline, making it an incredible platform for you to promote your company's event. Your company should have a marketing team that knows how to write an attractive press release for an event or pay a professional. 
The press release will be published on various media, for example, TV, radio, and newspaper, as most media companies typically have all three. You will have to spend much for a press release, especially if you want it to run during prime hours, for example, during nighttime news. Press releases can be expensive, but their reach may be worth the cost.
Use Social Media
Everyone is on social media, making it one of the best ways to promote your company's event online. Social media has the highest reach of any advertising platform plus, with accurate user data, your ads can be highly targeted, which gives social media promotions an excellent return on investment (ROI). 
There are various ways to promote your company's event on social media. You can create content and post it on your social media accounts. You can also use influencer marketing and get a personality with millions of followers on Instagram to promote the event. Ensure the method you choose gives you the best bang for your buck.
Paid Advertisements
You can decide to have your event promotion content organically reach its intended audience, or you can pay for advertisements to help it spread quicker. If you have the budget for it, the latter option is the option you should use. 
The good news is that you can buy advertisements online on almost every digital platform, including search engines, business websites, video streaming sites, and social media. With paid advertisements, you can create content specifically tailored for your event and send it to audiences with the highest chance of responding to your ad. 
Remember that paid advertisements will only run for a specific time, so you should optimize them.
Create a Poster That You Can Use On Your Website and in Your Local Area
People have used posters to promote events for decades, and they are still a viable event promotion avenue today. Therefore, you should make a poster that you can post on your website. Have all details of the event on the poster and have it show up on your most important pages. 
A poster could also be an excellent idea for offline event promotion. Make as many posters as possible, making them as large as possible and placing them in high-traffic areas with the highest visibility. The more visually appealing the poster, the more attention it attracts.
Email Marketing
Emails are still one of the most popular avenues of communication, and email marketing is often successful. 
You can use email marketing to promote your event online. The best part about email marketing is its affordability. It costs you close to nothing to send thousands of emails, especially if you have a mailing list. 
Moreover, a mailing list ensures that you send the event advertisement to those most likely to attend; hence it has an extremely high ROI. 
Event promotion is crucial for your company when you are hosting an event. You do not have to spend thousands of dollars hiring a promoter. Use email, posters, social media, press releases, and paid advertisements to promote your event. Online avenues have a wider reach, but you should also consider offline avenues.