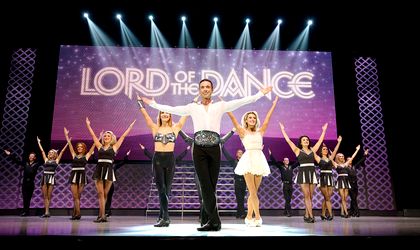 Irish dancer Michael Flatley once said: "Everybody will say, 'No, it can't be done.' Every time I hear that, I know I'm close to success." This philosophy was a vital factor in Michael Flatley's journey to Lord of the Dance, a journey he began in 1995 when he followed his passion despite being considered a dreamer. Flatley didn't stop easily and put into action a plan to create an Irish dance show for arenas and stadiums instead of traditional theaters. And today's global phenomenon, Lord of the Dance, has certainly exceeded his initial expectations.
By Romanita Oprea
How was Lord of the Dance created?
Michael Flatley was born and raised in the United States, but often visited his family in Ireland as a child, where he fell irreversibly in love with Irish dancing. Encouraged by his mother and grandmother, both Irish dancing champions, Michael learned his first dance steps at the age of four. To this day, Michael continues to honor his late grandmother at every Lord of the Dance show, leaving an empty seat in the front row as a silent tribute to the woman who paved the way for his success.
Michael's education in Irish dancing continued in the following years. At the age of 11, he was sent home from a class for being too "old", but Michael did not give up. He embraced the challenge, and at the age of 17 became the first American to bring the title of World Irish Dance Champion to the United States. After graduating high school, Flatley opened an Irish dancing school, but quickly felt unfulfilled as his ultimate desire was to perform the moves himself. Thus he began to build an unprecedented career as Ireland's first internationally recognized professional dancer. Since his first shows in the 1980s with world-renowned traditional Irish band The Chieftains, Flatley has generated global enthusiasm for Irish dance.
After attracting the attention of the President of Ireland, Mary Robinson, and dance show producers, Flatley was invited to create a memorable moment featuring Irish dance for the 1994 Eurovision Song Contest, bringing "Riverdance" to life. The moment was watched by Eurovision's 300 million viewers, receiving roars of applause for minutes from the 4,000 spectators at the Point Theater in Dublin.
Flatley later went on to create Lord of the Dance, the first Irish dance show based entirely on his unique vision. After its premiere at the Point Theater in Dublin in 1996, audiences and critics raved about it, describing the show as "powerful", fantastic", "electrifying", "magical" and "a wondrous sight".
What records did Lord of the Dance achieve? An instant hit, Lord of the Dance had sold-out shows, received standing ovations and set records across the globe. In over 1,000 venues in 60 different countries and on every continent, 60 million people have seen the Irish dance show since its premiere, making it one of the world's most successful dance productions of all time. It broke box office records around the world.
In 1998, Lord of the Dance set a record of 21 consecutive shows at the legendary Wembley Arena in London, a record that has not been surpassed since. Worldwide video sales have exceeded 12 million copies.
"Feet of Flames" was the first ever show to be performed at the historic "Route of Kings" in London's Hyde Park. This show reached new heights as Michael Flatley took it to sold-out 120,000 capacity stadiums. "Celtic Tiger" debuted in 2005 and marked the beginning of a new era of Irish dance that combined tradition with modern international trends.
"25 Years of Standing Ovations" Anniversary Tour
And now, as the troupe celebrates 25 years since its first show, 40 of the world's best dancers come together for a special anniversary show worthy of one of the world's grandest entertainment experiences. Living legend Michael Flatley worked alongside the entire Lord of the Dance team to create an amazing show for this special edition. The drama and story with which the show reached the hearts of fans will be exhibited on stage in a unique, explosive way that is sure to be unforgettable. Elements of past successful shows in terms of costumes, along with new designs, will be fused in this anniversary show in an ingenious way.
25 Years of Standing Ovations will have performances in Romania in May 2023, in 3 cities: May 18 (Multipurpose Hall in Cluj-Napoca), May 19 (Sepsi Arena in Sf. Gheorghe) and May 20 (Palat Hall in Bucharest).
Tickets for the show in Bucharest start from 99 lei and go up to 469 lei, to which is added the commission for issuing the tickets. Two categories of tickets are already sold out, and the other categories have been 75% sold. They can be found here: https://m.iabilet.ro/bilete-lord-of-the-dance-25-years-of-standing-ovations-69049/