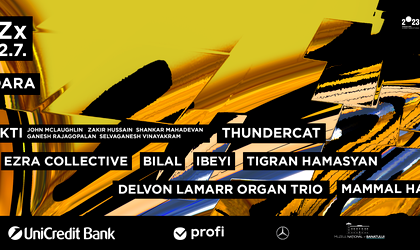 This year, the 11th edition of JAZZx, the international music festival, is set to captivate audiences with five days of diverse musical styles, ranging from modern jazz and fusion to soul. The festival promises to be a unique experience for music lovers who will have the opportunity to discover and appreciate the diversity and originality of this musical genre.
JAZZx is part of the National Program "Timișoara – European Capital of Culture" and is funded by Timiș County Council. Organized by the National Museum of Banat and produced and developed by PLAI Cultural Center, the event will take place from June 28th to July 2nd, 2023, with the support of its partners who have supported the project throughout its development stages: UniCredit Bank, Profi and Mercedes-Benz.
"We are confident that JAZZx will shine in the European Capital of Culture landscape. Timiș County Council has assumed the financing of this festival as a natural but equally symbolic gesture of respect towards the people of Timișoara, defining culture as a shared heritage that must be accessible to the general public. JAZZx continues to grow with each edition, and in 2023, it will offer five days of artistic excellence with a lineup worthy of the great similar festivals in Europe," said Alin Nica, President of the Timiș County Council.
The first announced artists for the 11th edition are:
Shakti [John McLaughlin, Zakir Hussain, Shankar Mahadevan, Ganesh Rajagopalan, Selvaganesh Vinayakram], Thundercat, Bilal, Ezra Collective, Ibeyi, Tigran Hamasyan, Delvon Lamarr Organ Trio, Mammal Hands.
About Shakti:
World Fusion Pioneers John McLaughlin and Zakir Hussain mark 2023 return with Shakti 50th anniversary album and world tour.
An unprecedented, transcontinental collaboration, Shakti united eastern and western musicians, and in the process forged the template for what is now called Indo-jazz fusion. From the West came virtuoso British guitarist John McLaughlin, who re-wired jazz via his work with Miles Davis and the Tony Williams Lifetime. From the East came visionary tabla player Zakir Hussain. Together they honed an ecstatic new fusion, blazing uncharted pathways and demonstrating the potential of such global composites to generations of musicians around the world.
Today's Shakti honors the legacy of the original band by acknowledging their tradition while continuing to push beyond existing boundaries into new musical landscapes.
About Thundercat:
Thundercat is a musical genius with a sound that blends jazz-funk fusion, electronica, soul, hip-hop, R&B, and psychedelia. His latest album "It Is What It Is" won the title of Best Progressive R&B Album at the 63rd Grammy Awards. Along with Bilal, Kendrick Lamar, and Anna Wise, he received the Best Rap Collaboration award for the song "These Walls".
About Bilal:
Bilal Sayeed Oliver is an American singer, songwriter, and producer. His music is a fusion that has helped to lay the foundation for Neo-Soul and is full of layers of jazz, funk, and R&B that interweave. His voice rises from the depths of romantic pain to the stratosphere of musical euphoria, his lyrics are challenging and poetic. His classical training as a jazz vocalist has made him a chameleon in the music industry.
About Ibeyi:
Ibeyi consists of Franco-Cuban twins Lisa-Kaindé and Naomi Díaz. Correspondingly, "Ibeyi" also means "twins" in Yoruba, the language and culture of their ancestors. This influence can also be heard in their songs, where they bring together fusion jazz, R&B and downtempo electronica with samples of traditional instruments.
Latest single 'Lavender & Roses' featuring none other than Jorja Smith gives a detailed insight into their highly anticipated new album 'Spell 31' which promises to be a powerful and activist manifesto.
About Ezra Collective:
Ezra Collective has become an integral part of London's dynamic jazz scene, and their first album "You Can't Steal My Joy" was met with widespread critical acclaim. With a unique sound that blends jazz, hip-hop, and Afrobeat, Ezra Collective is one of the most exciting new acts in jazz today.
About Tigran Hamasyan:
Tigran Hamasyan is a pianist and composer of Armenian origin, based in Los Angeles since 2003. He started studying the piano at the age of 3, and at 13 he was already invited to European jazz festivals. With astonishing dexterity and a deep sense of composition, Tigran is among the most promising and charismatic pianists of the moment.
About Delvon Lamarr Organ Trio:
Delvon Lamarr Organ Trio—or as it is sometimes referred to, DLO3—specializes in the lost art of "feel good music." The collective of talented artists that contribute to their unique sound has included a big helping of the 1960s organ jazz stylings of Jimmy Smith and Baby Face Willette; a pinch of the snappy soul strut of Booker T. & the M.G.'s, The Meters, Motown, Stax Records, blues, and cosmic Jimi Hendrix-style guitar. It's a soul-jazz concoction that is designed to reach the deepness of your soul and mind. A true experience like no other.
About Mammal Hands:
Consisting of saxophonist Jordan Smart, pianist Nick Smart and drummer and tabla player Jesse Barrett, Mammal Hands have forged a growing reputation for their hypnotic fusion of jazz and electronica and their pulsating live performances. Drawing on a shared love of electronic, contemporary classical, world, folk and jazz music, Mammal Hands take in influences including Pharoah Sanders, Gétachèw Mekurya, Terry Riley, Steve Reich and Sirishkumar Manji to create something exhilaratingly new.
JAZZx is the highlight of the European Capital of Culture – Timișoara 2023 and promises to be an unforgettable musical experience. Be part of this celebration of diversity and originality in jazz music.
GENERAL:
JAZZx will take place in Romania, Timișoara, in the city center, from Wednesday June 28th  to Sunday July 2nd and is open to the public.
JAZZx brought to the stage such names as (in chronological order): Richard Bona, Marcus Miller, and Macy Gray, Terri Lyne Carrington / Lizz Wright, Al Jarreau, The Cat Empire, The Chick Corea Elektric Band, Miles Mosley x The West Coast Get Down, Christian Scott aTunde Adjuah and Monty Alexander, Gregory Porter, The Cinematic Orchestra, Kurt Rosenwinkel, R+R=NOW, Laura Mvula, Jazzmeia Horn, Moses Boyd, Yussef Dayes, Tank & the Bangas, Bokante, Gonzalo Rubalcaba, Ibrahim Maalouf,  Jazz at Lincoln Center Orchestra with Wynton Marsalis, Stanley Clarke, Hiromi, Ashley Henry.
More details about the festival: www.plai.ro/jazz | www.facebook.com/JAZZxofficial | www.instagram.com/jazzx_official/