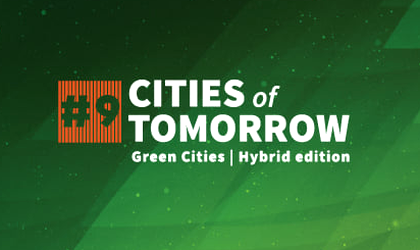 The German-Romanian Chamber of Commerce and Industry (AHK Romania) is organising the ninth edition of the "Cities of Tomorrow" conference between 13-16 September 2021 in a hybrid format.
"Cities of Tomorrow" is nationally recognised as a landmark event dedicated to urban and regional development, this year bringing to the forefront the importance of green cities and green technologies.
Around 300 participants from both public and private sectors are expected to attend this year's event.
The event will be honoured by the presence of special guests from Germany and Romania: public administration, civil society and the private sector will discuss in two panels the right approach to projects leading to green cities and the involvement of all relevant actors. The first dialogue, between former mayor of Dortmund and independent consultant Ullrich Sierau and the mayors of Districts 2 and 6 of Bucharest, Radu Mihaiu and Ciprian Ciucu, will be moderated by arch. Irina Meliță, vice-president of OAR Bucharest and Andreas Schiller, journalist and publisher Schiller Publishing House. The second panel of dialogue between cities will have as special guests Andreas Kipar (LAND), creator of the "Green Rays" model in Milan, which connects different areas of the city to encourage a new slow mobility from the centre to the periphery, Ioan Popa, mayor of Reșița, arch. urb. Eugen Pănescu, planwerk cluj, member of the Executive Committee of the Architects' Council of Europe and Elena Lucaci, founding president of the Parinti de Cireșari Association. The discussion will be moderated by Dorothee Hasnaș, architect and cultural manager. Burkhard Drescher, former mayor and city manager of Oberhausen, with extensive experience in developing redevelopment projects, will give a presentation on smart concepts for green cities.
Speaker and presentation information: https://www.citiesoftomorrow.ro/agenda/
This year we continue the concept of online round tables, a concept that allows participants to be more involved, giving them the opportunity to discuss for two hours different topics/projects, chosen according to the topicality and necessity of the theme, and to find concrete ideas and solutions that they can implement in their own projects. The valuable conclusions and insights resulting from the nine round tables will be the basis for future actions. The nine roundtables take place online, three each day, from 13-15 September.
The best solutions will be judged by participants in real time on the event's platform, Swapcard, with the winning table being awarded for success.
Roundtable themes & sub-themes and moderators here: www.citiesoftomorrow.ro/roundtables.
Relevant to the success of this event is both what happens during the days of the event, but more importantly what happens afterwards, how participants understand to use the exchange of ideas, experience and contacts gained at Cities of Tomorrow.
After the interactive round table debates, held online on 13, 14 and 15 September, participants will regroup on 16 September for a short presentation of the solutions identified at each round table and the award ceremony for the winning table.
Ahead of the 9th Cities of Tomorrow, a project competition was organised for public administration, business and civil society. The sustainable development factor was taken into account in the selection of the final projects. We were therefore looking for initiatives leading to green cities, with a focus on improving the quality of life of their inhabitants.
With the help of a jury of highly experienced personalities, 9 finalists were chosen – so 9 initiatives will receive special attention at the conference.
The 9 finalist projects that will be presented on 16 September during the pitching session at Cities of Tomorrow are: in the Public Administration category: Buzău ("Buzău Green City"), ADI for Public Transport Bucharest-Ilfov (Introduction of urban and metropolitan train services in the Bucharest – Ilfov metropolitan area"), Sector 6 of Bucharest ("nZEB educational units and deep retrofit measures"); in the Business Environment category: Banca Comercială Română ("BCR Smart Transport Solution"), Life is Hard ("City Health Smart City Platform"), Urban Cultor ("Food for Earth"); in the civil society category: EFdeN ("Development of solar house prototypes for educational and research purposes"), Fundația Comunitară Mureș ("Cycling for a good cause"), Centre for research, innovation and promotion of wood SILVANIA ("Standard carbon footprint management system")
The "Cities of Tomorrow" conference is intended to be a public awareness-raising conference on sustainable development, reconversion and revitalisation of Romania's regions and cities, the tasks and roles of political, business and civil society actors, urban and rural infrastructure development, city management (public utilities, traffic management, energy-efficient buildings), integration of central and historic city areas and suburbs and beyond.
The market place organised in the foyer in previous years has been transformed into a virtual one on the event platform. Here, the sponsors of the event – Banca Comercială Română (BCR), FEPRA, SAP, BABLE, Robert Bosch, E.ON, BASF, National Battery Recycling System, Industrial Park Siret and Siemens Energy – will present their solutions and technologies for the modernization and efficiency of cities and regions.
The conference is designed to provide useful information and new perspectives for: city halls, city managers, representatives of regional development agencies and metropolitan areas, representatives of city and county councils; Romanian and foreign private companies; urban planning professionals as well as architects; real estate investors and developers interested in and/or based in South East Europe; real estate professionals; representatives of chambers of commerce and industry; representatives of industrial clusters; technology providers; urban utilities and infrastructure companies; NGOs and banking professionals.
The first part of the main event on 16 September will be broadcast live on AHK Romania's facebook page https://www.facebook.com/ahkromaniaofficial/
More details as well as the Cities of Tomorrow agenda can be found at www.citiesoftomorrow.ro