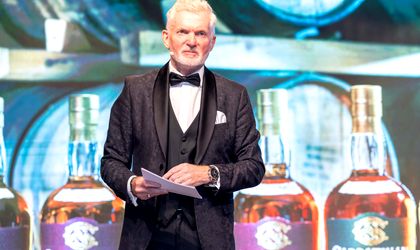 Carpathian Single Malt, produced by the Alexandrion Group, the biggest producer and distributor of spirits and wines in our country, was launched in Romania on October 27th, through a large event organized in Bucharest.
The commercial launch of the first single malt whisky produced 100% in Romania, gathered more than 600 people: members of the Single Malt Society and The Whisky Club, representatives of diplomatic missions to Romania, business partners, clients, celebrities, media and influencers. They all had the opportunity to taste the Carpathian Single Malt expressions in a spectacular setting, with many decor elements and sensory experiences that reflected the brand identity.
Dr. Nawaf Salameh, Founding Chairman Alexandrion Group said: "Five years ago we were beginning a journey on a path that nobody had had the courage to explore before. I didn't have any fear, because I knew what extraordinary natural resources Romania had and I knew I was surrounded by a strong competent team, able to help me turn my dream to put Romania on the map of single malt whisky producers into reality. The expertise and energy of our Master Distiller Allan Anderson, who coordinated the production process, were also essential for the success of this product. There were challenging moments as well, just like in any innovative project, but we overcame them all focusing on our goal, to create a product which would be Romania's ambassador abroad, through its quality and attributes and which would bring joy to consumers all over the world. And the feedback that I have received from whisky afficionados from many countries, starting from May, when we kicked off the international tour, has shown me that this product is highly expected both in Romania and on many international markets. I am happy that starting from today we can offer it to consumers and shoppers from Romania and I would like to thank everyone for supporting us on this path."
The Carpathian Single Malt range was expanded from the 3 expressions – Fetească Neagră, Pinot Noir and Madeira- included in the exclusive limited edition of only 930 bottles and comprises now 9 expressions: Fetească Neagră and Pinot Noir, which are part of the  Romanian wine cask collection, Madeira, Oloroso, Pedro Ximenez and Tawny Port, included in the Spanish and Portuguese wine cask collection, Burgundy and Cognac, from the French wine cask collection and Commandaria, part of the Greek and Cypriot wine cask collection. Commandaria will be available exclusively in Greece and Cyprus.
The attributes of the 9 expressions – appearance, nose, taste, finish – are detailed on the brand website.
Carpathian Single Malt is available now for consumers and shoppers in Romania in the 0.7 l version via the online shop www.iconicdrinks.shop , part of the Alexandrion Group and via the brand website www.carpathian-singlemalt.com . Starting from mid-November it will also be available in premium specialized shops, HoReCa and retail locations and other specialized e-commerce platforms on the territory of Romania.
Carpathian Single Malt will gradually be introduced on international markets.
Produced entirely from Romanian ingredients
Carpathian Single Malt is made using 100% malted barley produced in Romania. This single malt is distilled, matured and bottled at the Alexandrion Saber 1789 Distilleries, located in Bucov, Prahova county, near the Carpathian Mountains. The first ever Romanian single malt whisky is made with pure Sub-Carpathian water, renowned for its quality, is natural in colour with nothing added or removed, un-chill filtered to retain all the natural colour and flavour and bottled at 46 % alcohol.
Carpathian Single Malt was matured in Romanian wine casks, another world premiere in terms of single malt production. Alexandrion Group becomes, thus, one of the few companies in the world that use casks from their own wine production facilities to mature single malt whisky.
The visual identity of Carpathian Single Malt was created by the agency Appartement 103, member of the Marie Claire Group.
Master Distiller with Scottish and Irish heritage and 30 years of experience
The Master Distiller of the Carpathian Single Malt is Allan Anderson, with both Scottish and Irish heritage, who has more than 30 years of experience in producing both Scotch whisky (Loch Lomond, Whyte & Mackay, Aberargie) and Irish whiskey (The Great Northern Distillery). He also designed the distillery of Slane Castle Ireland.
"This whisky perfectly showcases our distillery terroir. The huge flavour impact of our malted barley, the pure Sub-Carpathian water combined with the unique flavors of Romanian and other casks in the range make Carpathian Single Malt an exquisite whisky, which without a doubt, will become one of the best in the world as it further matures. The maturation in warmer climate regions versus Scotland (+5°C on average) might explain the unique, milder character of this superb whisky," said Allan Anderson.
Carpathian Single Malt kicked off its world tour on May 25th, a few days after the World Whisky Day, through an event organized in Washington, at the residence of H.E. Mr. Dan-Andrei Muraru, the Ambassador of Romania to the United States of America, during which the exclusive limited edition of 930 bottles was unveiled. In July, Carpathian Single Malt was unveiled to the audience from Great Britain, in an event organized in London at the Royal Automobile Club. The world tour will continue next year with events organized in other countries.