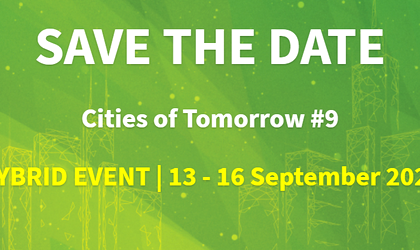 As part of the Cities of Tomorrow conference, AHK Romania's #NewGreenForNewGenerations project competition has chosen its finalists for the 3 categories of the contest. 
The finalists were selected by the competition's jury members:
Marianne Schulze, German Independent Journalist
Alexandru Petrovici, Executive Director, Asociația Orașelor din România (AOR)
Daniel Matei, Business Development Manager, Impact Hub Bucharest
Eugen Pănescu, Co-founder planwerk
Tudor Popp, Managing Partner REC Partners și Hotspot Coworking Space
Sebastian Metz, General Director and Board Member, AHK România
The following projects made it in the final stage of the competition:
BCR for BCR Smart transport solution
LIFE IS HARD for Smart City platform CityHealth
URBAN CULTOR for Food for the Earth
EFdeN for Developing solar houses prototypes for educational and research purposes
FUNDAȚIA COMUNITARĂ MUREȘ for Cycling for a Noble Cause
Centrul de cercetare, inovare și promovare a lemnului SILVANIA for SILVANIA Standard Carbon Footprint Management System
Buzău Municipality for Green City
ADI pentru Transport Public București Ilfov for Urban light and heavy railway transport development
District 6 of Bucharest Muncipality for nZEB educational units and deep retrofit measures
The nine finalists will give a short presentation during the main event on 16 September at 11:45.
The German-Romanian Chamber of Commerce and Industry (AHK Romania) is organising the ninth edition of the Cities of Tomorrow conference from 13-16 September 2021, this year dedicated to green cities. In these nine years, the event has become an important platform for trialogue between public administration, business and civil society, dealing with important topics such as mobility, energy efficiency, circular economy, reconversion and revitalization, tourism, or digital governance of cities.
More details and agenda: www.citiesoftomorrow.ro.
Registration: https://bit.ly/3fB9iQy
As media partners of the conference, Business Review offers its readers a 10% discount with the BUSINESSREVIEW10 code (this code can be entered in the registration form in the event code section).