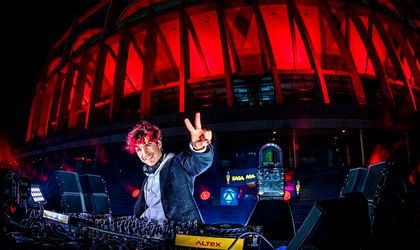 This week, on Wednesday, December 1st, SAGA Festival celebrated Romania's National Day and the move to the National Arena with a spectacular fireworks display and a special DJ set by Alex Parker. The show, broadcasted live on SAGA, PRO TV, Kiss FM, and Kiss TV online platforms, was watched by over 100,000 people. Also on Wednesday evening, those registered on sagafestival.com were the first to buy tickets for the new edition. Starting yesterday, all ticket categories, at the lowest price threshold, will be on sale. Only in December they can be bought through the instalment system with an EUR 10 deposit.
"We are glad that we could be together on Romania's National Day at the National Arena. This place has a certain vibe that you can experience once you get here, and I'm convinced it's the perfect place for what's to come. SAGA is a movement of people who love electronic music. This year, our line-up will be considerably bigger, we will bring more artists expected and loved by the audience to Romania. It's a place where we want people to be part of something special, where their imagination can come true. SAGA is a festival that crosses borders. Last night, with a special event, we marked the fact that we have a new home. We put a flag here for what will be next June", said Allan Hardenberg – CEO ALDA.
Afrojack, Marshmello and Timmy Trumpet are the first artists announced in the line-up of the second edition of SAGA, which will take place in June 3-5, 2022, at the National Arena in Bucharest
Starting in 2022, SAGA will have a new, grander venue that will bring even more electronic music lovers together. On 3, 4 and 5 June next year, the new venue will be the National Arena in Bucharest, together with the park surrounding it, where the whole festival concept will take on new dimensions, where there will be more stages, surprises and secrets waiting to be unveiled.
"We all enjoyed together an amazing first SAGA edition and a perfect place for the festival's debut. People's reactions, their desire to participate in the festival in greater numbers and the fact that we wanted to take it to the next level in 2022 and prepare an innovative concept on a new scale, to have more stages for our audience, led us to choose a new home for SAGA: the National Arena. This is where the festival will take place from next year, this is where we will stay and we aim to surprise our audience year after year with the best EDM line-up and unforgettable experiences," said Allan Hardenberg, CEO ALDA.
More than 150 of the world's top international and local artists will be at SAGA next year on June 3, 4 and 5, including Afrojack, Marshmello and Timmy Trumpet.
SAGA Festival also launched the first edition aftermovie
In November, SAGA launched the aftermovie of the first edition of the biggest electronic music festival in Bucharest, where tens of thousands of people spent three energetic days with their favourite DJs in a setting where imagination and creativity played the main role. Festival-goers were treated to a fantastic show and a unique concept in Romania, and SAGA was the perfect place to create new lasting friendships and an incredible connection with the artists.
Now it's time for everyone who said #WeAreSAGA to relive the great moments from the beginning of the fall and get ready for another incendiary edition that will take the whole experience to a whole new level. The aftermovie can be watched on the official SAGA Festival YouTube channel.