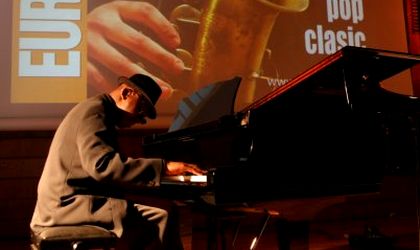 The countdown is on to EUROPAfest, billed as Europe's only festival that encompasses four music genres – jazz, blues, pop and classical. The 16-day event will include one whole week dedicated to jazz. Between 12 and 19 May, the Odeon Theater will host a nightly series of concerts under the banner EUROPAfest – 100% jazz and more. This international jazz competition will be contested by troupes from over 20 countries – the USA, Poland, Switzerland, Slovenia, the UK, Germany, the Netherlands, Israel, Armenia, Australia, Brazil, France, Ireland, Italy, Japan, Colombia, Russia, Moldova, Norway, Romania, Spain, Sweden and Hungary.
The musicians due to perform in the competition have previously graced international events such as the Montreux Jazz Festival, Red Sea International Jazz Festival and Lionel Hampton Jazz Festival USA. Music fans can also expect to enjoy fado, blues, Balkan rhythms, African-American and Japanese sounds. Tickets are on sale at the theater, at RON 26.50 per day (RON 15.90 for students).
The Bucharest International Jazz Competition has earned a reputation as a prestigious event in South-East Europe and was described by BBC as one of the top three jazz contests in Europe. British pianist, Wayne Brown (pictured), artistic director of the event and president of the jury, said, "I love the spirit of the event and I feel as at home in Bucharest as I do in London."
Among the highlights of EUROPAfest, the organizers have also announced that the Swedish group Arnesen Blues Band will play on 6 May. Formed in 2002, the band gives a modern slant to blues music and plays a combination of its own songs and traditional standards.
Various events will be held throughout the festival, including jazz, blues and pop concerts, jam sessions and workshops, jazz and young violinists' competitions, and shows in unconventional spaces. Overall, more than 300 participants from 45 countries will perform at the festival, now on its 19th run. Since 2005, the event has been held under the high patronage of Princess Margarita and Prince Radu. More information is available at www.facebook.com/EUROPAfest.Bucharest.