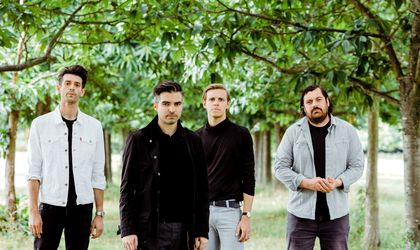 The promise for this Friday night is doityourway: The Boxer Rebellion (TBR), All We Are and Golan are giving a gig in Fratelli Studios, starting 19.00. 
Business Review talked with one of the best indie groups of the moment, The Boxer Rebellion, who are back in Bucharest for this #doityourway. What should you know about TBR before the concert? "With a defiant and self-contained spirit and independent drive, that's the sword that The Boxer Rebellion have always lived by. Formed in London in 2001 by the Britpop-obsessed but Tennessee born Nicholson and his three English friends, the band found success through turbulent times and by skirting around the edges of conformity", presents themselves on their official website. We believe you should not miss this concert, especially because their new album is going to be released very soon and probably some surprises are going to be revealed.
You all have different influences. How can you define the TBR sound?
As much as our influences have changed over the years, as has our sound, which is also as it should be if you want to stay fresh as an act. What has also changed is Nathan's voice, which is interesting to hear record to record. If I had to define our sound in just a few words though, I would probably describe it as a lush soundscape. However much our sound has changed over time – and it has – I have always listened to it and seen it sound-tracking something visual, whether that is on screen or in your own imagination.
On your official website, you said that "in the current climate, survival is the true measure of success". After 17 years on stage, how would you define this success for TBR?
It is very easy to define success generally by awards, arena shows and platinum discs, but the artists that exist in that world are a small percentage of the industry. It's an industry that has had it's general income shrunk by a massive amount over the past few years quite simply because the value of music itself has gone down and down by it becoming close to free as a product. To still be able to make music as a job is a huge privilege and not one to be taken for granted. There are ways to make money from the industry for sure, but less and less and it is true to say we have proudly outlasted countless acts who in the eyes of the world have been defined as more successful than ourselves. I have a back catalogue of at least 6 studios albums that my children will grow up listening to and proudly playing to their friends when they are older. This is personally my greatest feeling of success.
You recorded your newest album, Ghost alive, on your own label. Why did you decide to have your own label?
Officially we have been on our own label since our second album since the only album we have been signed for was 'Exits' actually. We license our material album by album to different parties, and on this occasion we have decided to not do that, which with us being our own-run label, is our prerogative.
What's the best thing social media brought to TBR?
Whilst it's true income for musicians is down, largely down to record sales being minimal it is also true to say that we live in an era where more fans are able to access your material more easily than ever before. The best thing about social media for a band like our size is quite frankly to serve to fill the void of radio and TV, which is hard thing to obtain for any band with decreasing opportunities. Fans can discover and share your music without the aid of the traditional formats – the print closure of NME magazine (my main source of new music tips growing up) this week is proof of that. We have far more global exposure with social media than we would have had without, and that is the case for almost anyone.
Which is the main social platform you communicate with your fans?
This really does change according to where you are. It is always interesting to see how certain platforms perform differently in different countries to others, but I would say we are most precious about our Facebook output. That seems to be where we communicate with and reach the most fans.
Do you have a social media strategy for your online strategy?
Be as approachable as you can without giving away your soul! I was never able to interact with my favorites bands when I was growing up so it must be so cool for people to be able to do that now. It is easy to underestimate the impact of responding to fans, but we believe as an independent band it can be the lifeblood of what you are doing. Social media aside, we have stayed to the end of every show to sign merchandising for years now, which is a reflection of that.
Worldwide (I might say) Red Bull is the new school of rock. Have brand partnerships destroyed counterculture? Or are they all that's keeping it alive?
Music's increasing attention to branding is not a coincidence. If it were not needed I'm sure we would see far less of it from a creative standpoint but frankly it is a sign of the times. Certainly when we were starting out as a band many, many bands would turn their noses up at having their music used in big brand ads for example, whilst judging other bands that did so in the process. Nowadays, you'll get a pat on the back for it, with an acknowledgement that it is part of your success as a band. If bands could sell a million records rather than have their music used on a car ad, they would, but those kinds of sales just aren't there anymore.
That said, I don't believe on the whole, it makes music any less appealing or brilliant, it's just you might hear it on the TV before anything else.
In recent years, talent shows like X Factor or *insert country name* Got Talent have emerged worldwide. Is this a form of music school or just a TV-show?
For the most part it is certainly not helpful in developing writing artists. For many years it is been glorified karaoke, but that doesn't mean they can't develop performing stars – it is not a new thing to have huge stars performing other people's written material, it has happened for decades.
You don't find many people on those shows writing their own material (which is a massive part of being a credible artist for me) so that is why it loses a lot of appeal in my opinion but it is true to say that a lot of people who have had success on them have gone on to perform to much greater audiences than say, ourselves, and for that they can be applauded. Playing to millions of people on TV every Saturday night is a big deal, and not an experience I know anything about, so credit where credit is due sometimes I think.
Is radio still the key to success for musicians?
I wouldn't say so no. Sure, I still listen to the radio, and it still has an effect or else artists wouldn't spend money trying to get their songs on there but I think playlists are king now, and you can discover new music in so many different ways now. That part of being in a band is truly fabulous – I believe music can be judged much more fairly these days as a result.
How was it for the band the implication in the US TV shows, especially after being on the soundtrack of Grey's Anatomy? Did worldwide gigs organizers wrote you down to invite on their scenes?
It was all part of the constant wheel turning for the band really. I wouldn't say one single thing has escalated us to huge stardom or anything like that. Certainly being on those shows and performing on chat shows opened us up to many new fans, and got us touring more extensively as a result, but it is always hard to gauge to what extent certain shows that you are describing have pushed things on their own, except for maybe Going The Distance, which pretty much transformed our presence in the US and developed a fan base over there that needed servicing immediately.
But when you were part of the Going The Distance movie?
We filmed for Going The Distance in the summer of 2009, and it came out almost exactly a year later. As said, it certainly helped our presence in the US particularly and alongside that is one of the most hilarious things we have been part of as a band and I wouldn't swap our experiences in that film for anything!
What's next for TBR?
Well, Ghost Alive comes out on March 23, which comes just at the end of a short tour. We plane to tour again in the autumn, and have just secured all our dates in the US which will hopefully be announced soon. Other than that we have a few festivals to do over the summer, in between writing new material while we wait to get out on the road again, as you always need to keep writing.
A message for the Romanian public?
We honestly can't wait to get back out to Romania. We had a great time last time for our only show out there as it stands, and it was wonderful to meet some genuine fans who had waited a long time to see us. Going to new places and discovering people that love our music will never get old. It is a huge privilege. See you on Friday!