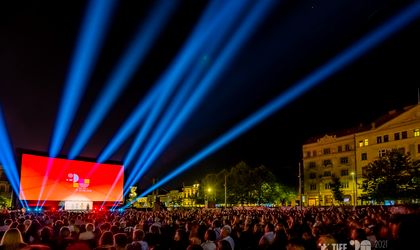 Transilvania IFF 2021 had its awards gala on August 1, where The Whaler Boy, directed by Philipp Yuryev took Transylvania Trophy. Eugen Jebeleanu received Best Directing Award and The Audience Award, for Poppy Field/ Câmp de maci, while Special Jury Award, offered by HBO was given to Pebbles, directed by P.S. Vinothraj.
Best Performance Award was received by Petra Martínez, for That Was Life and Special Mention of the Jury – The Flood Won't Come, directed by Marat Sargsyan.
FIPRESCI Prize, offered by The International Federation of Film Critics for a film in the Romanian Days section nominated Unidentified, directed by Bogdan George Apetri.
Wild Romania, directed by Dan Dinu, Cosmin Dumitrache took also The Audience Award offered by Dacin Sara.
Director Nae Caranfil received Excellence Award, offered by Mercedes-Benz, and actress Cezara Dafinescu took Lifetime Achievement Award, offered by Cemacon.
Other awards offered at TIFF 2021:
The Special Transilvania 20 Award – film critic Dan Făinaru
Romanian Days Award for Best Feature Film, in amount of 10,000 euro (in post-production services) offered by Cinelab Romania – Otto The Barbarian, directed by Ruxandra Ghițescu
Romanian Days Award for Best Debut, in amount of 1,000 euro, offered by Banca Transilvania –  #dogpoopgirl, directed by Andrei Huțuleac
Romanian Days Award for Best Short Film, in amount of 5,000 euro (camera & electric & grip equipment services), offered by CutareFilm – When Night Meets Dawn, directed by Andreea Borțun
Special Mention of the Short Film Jury in the Romanian Days – Cradle, by Paul Mureșan
***
Transilvania Pitch Stop Awards
The Chainsaw Europe Award – 25,000 euro in post-production services – The Talentless, directed by Radivoje Bukvić, produced by Jovana Jovičić – Prikaz Film (Serbia)
The Transilvania Pitch Stop Development Award, in amount of 7,000 euro, offered by Avanpost Media & TIFF  – The Poor Dove, directed by Călin Laur, produced by Ștefan Nahaba – Racketa Production (Republic of Moldova)
The Moldova National Film Center Award, offered within the Transilvania Pitch Stop program,  in amount of 1 500 euro – Sasha, directed by Vladimir Beck, produced by Katerina Mikhaylova, Vasily Klepatsky, Ruben Dishdishyan – Vega Film, Mars Media Entertainment (Russia)
The CoCo Award, offered by Connecting Cottbus Co-Production Market – The Ways We Look at the Sun, directed by Ioana Țurcan, produced by Ana Maria Pîrvan – Studioset Production (Romania)
Full Moon Script Contest
Best script for a feature film, in amount of 1,500 euro – A Girl Alone in the Night, by Sorana Borhină and Rodica Domințeanu
Best pilot script for series/ miniseries, in amount of 1,500 euro – The Bâlea Lac Case / Dark Histories, by Alex Țibu and Șerban Racovițeanu
Other Awards
Alex. Leo Șerban Scholarship, in amount of 2,500 euro, offered in partnership with Conceptual Lab by Theo Nissim – A Flower is Not a Flower, debut feature film and short story by  Cristian Pascariu
Alex. Leo Șerban Scholarship Special Mention, in amount of 500 euro – Films in Frame film magazine
Alex. Leo Șerban Scholarship Special Mention, in amount of 1,000 euro, offered in partnership with Conceptual Lab by Theo Nissim to a young Romanian actor in a short or feature film that premiered in 2020 or 2021  – Ioana Bugarin for Mia Misses Her Revenge and  Otto the Barbarian
The Young Francophone Jury Prize – offered by TV5 Monde, RFI Romania, Institut Français – Teddy, directed by Ludovic Boukherma, Zoran Boukherma
Local Competition
Local Competition Award, in amount of 1,500 euro, offered by Banca Transilvania and post-production services, in amount of 15,000 euro, offered by Numa Film – Să ne jucăm în continuare, by Farkas Ágnes-Anna
Special Mention in the Local Competition, in amount of 7,000 de euro (in post-production services), offered by Numa Film – Apel Nou, by Lucian Barbu
Special Mention offered by Fabrica de Pensule, in amount of 300 de euro – re:adapt 25:36, by Ioana Hogman