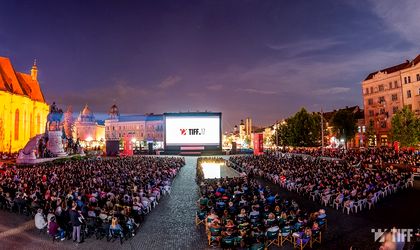 Romanian Cinema is the spotlight for the 20th edition of TIFF (July 23-August 1, Cluj-Napoca). Committed more than ever to its mission to promote and support Romanian cinema, the festival includes in this year's program an impressive selection of 45 Romanian productions — 32 features and 13 shorts.
13 feature films will have their World Premiere in the festival, mostly directed by newcomers ready to be discovered by the audience, as well as the film industry. The overall selection of the 20th edition comprises more than 170 titles.
The three films representing Romania in Cannes will all have their national premiere at Transilvania IFF. Included in the Quinzaine des Réalisateurs, Radu Munteanu's Întregalde tells the thrilling and captivating story about the limits of generosity. And the two shorts, Andreea Borțun's When Night Meets Dawn and Andrei Epure's Intercom 15 / Interfon 15, selected in the Quinzaine des Réalisateurs and the Semaine de la Critique, respectively, are among the 11 titles competing for the best Romanian short at Transilvania IFF.
The Romanian Days Competition includes 12 titles directed by young filmmakers, two of which, Poppy Field/ Câmp de maci by Eugen Jebeleanu, a queer drama about a conflicted member of the police force, and Unidentified/ Neidentificat, a thriller about un unsolved crime and an obsessed cop by Bogdan George Apetri are also in the international competition for the Transilvania Trophy. Candidates for best Romanian feature this year include: Ruxandra Ghițescu's debut Otto the Barbarian/ Otto Barbarul, about a teenage punk trying to deal with the suicide of his girlfriend, Daniel Sandu's The Father Who Moves Mountains / Tata mută munții (Shanghai 2021), an arresting story of a retired Intelligence officer in his 50s, who finds out that his son went missing in the mountains, Andrei Huțuleac's debut #dogpoopgirl (Best Film at Moscow 2021), a tragicomedy inspired by a real incident, but also four documentaries like Andrei Dăscălescu's Holy Father (Sarajevo 2020) and Andra Tarara's personal and moving Us Against Us / Noi împotriva noastră (Jihlava 2020), about her father diagnosed with schizophrenia.
The Romanian film selection features no less than 13 world premieres, including Octavian Strunilă's Perfect Strangers / Complet necunoscuți, a Romanian remake of the Italian comedy Perfetti sconosciutti; Dan Dinu and Cosmin Dumitrache's Wild Romania/ România sălbatică, an impressive nature documentary project made over eight years; Oana Giurgiu's documentary Occasional Spies/ Spioni de ocazie, a lesser known story from the Second World War about ordinary people recruited by British Intelligence and sent on a mission in German-occupied Eastern Europe, as well as the pilot for the new HBO Romanian series Ruxx, a contemporary relationship drama focusing on the young generation leaving Romania, directed by Iulia Rugină and, finally, Night Patrol/ Rondul de noapte, the new film from veteran director Iosif Demian, honored at Transilvania IFF in the 3×3 section.
Romanian Days will also feature films from celebrated directors who have already been presented or awarded in major festivals: Radu Jude's Bad Luck Banging or Loony Porn / Babardeală cu bucluc sau porno balamuc (Golden Bear at the 2021 Berlinale), Andrei Gruzsniczki's No Rest for the Old Lady / După 40 de zile (Moscow 2021), and Marian Crișan's Berliner (Moscow 2020). Like every year, TIFF audiences will have the opportunity to meet Romanian filmmakers not only after screenings but also during TIFF Talks and InspiraTIFF events.
Also, Closed Screenings for the film industry professionals will offer the opportunity to discover Romanian films that are currently in post-production and will be launched in 2022.