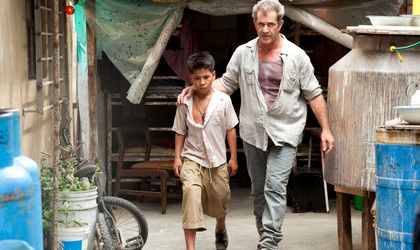 Mel Gibson is a clown. I'm not referring to Mel's alleged drunkenness, criminality, domestic violence, anti-Semitism, misogyny and homophobia, I mean on screen. In the opening sequence of Get the Gringo, Mel and his wounded buddy, both clad in clown suits, are speeding away from the California cops with several hold alls full of stolen cash. We know we're supposed to sympathize with these violent thieves, because the scene is accompanied by upbeat bluesy rock music. So go Mel!
In order to avoid being arrested on the American side of the border where he has a long criminal record, Mel blasts through the fence separating the US and Mexico – a notoriously flimsy divider. So off he goes to El Pueblito prison in Tijuana, which – guess what – doesn't offer very good conditions. Mel doesn't like it because they play annoying Hispanic music all the time and he gets beaten up by other inmates. It's also beset by corruption and run by bathrobe-clad bigwig Latino criminals.
Mel plays the kind of likeable robber who can be redeemed by The Love of a Good Woman. He soon meets said Good Woman (although El Pueblito is technically a prison, it's more like a very downmarket holiday camp where families are allowed to wander in and out) and her son, whose rare blood type makes him of interest to the blood group-sharing prison kingpin who happens to need a liver transplant. Mel must protect these innocents (the mother is a drug dealer but never mind that) while trying to avoid the menacing attentions of the bathrobe-clad bigwig Latino criminals and corrupt cops looking for the cash Mel stashed somewhere before his arrest.
Get the Gringo is an attempt to move away from Gibson's vanity projects of the last few years and get him back to safer Payback, Lethal Weapon territory, where he can showboat as a wise-cracking tough guy whose macho persona hides a sensitive soul. The actor can probably do this sort of role on auto-pilot now, and brings some charisma to the part. There are some entertaining set pieces, particularly when Mel begins to take down his enemies. The action is well handled throughout and the narrative crackles along: at 96 minutes it doesn't push it. A lively soundtrack also lends some style.
But you will find every revenge cliché in this movie. Gibson wrote the script, which perhaps explains why it is built on all the hackneyed lines you'd expect. The film exalts in its gratuitous violence, and at times looks like a cheap Mexican rip-off of Tarantino, without the élan. Mel, The Woman He Loves and Innocent Kid's characters are never given names, to be symbolic, or profound, or something.
Get the Gringo is nasty, sleazy, brutish, sexist and xenophobic, which it generally gets away with thanks to a veneer of charm, snappy lines and a twinkle of the eye. I wonder why they picked Mel Gibson.
Director: Adrian Grunberg
Starring: Mel Gibson, Kevin Hernandez, Daniel Giménez Cacho, Dolores Heredia, Peter Stormare
On at: Cinema City Cotroceni, Cinema City Sun Plaza, Grand Cinema Digiplex Baneasa, Hollywood Multiplex, Movieplex Cinema, The Light Cinema
DEBBIE STOWE