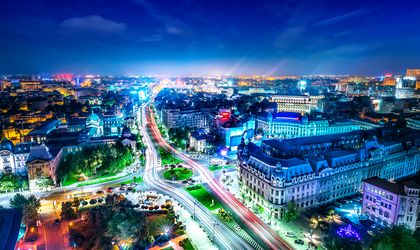 Glamourous hotels, fine dining, great casinos, and an array of nightlife characterise the perfect city for a pre-wedding blow out. New analysis by Finnish casino review site Bonusetu has revealed which European cities hold the keys to the best stag and hen parties possible.
By Romanita Oprea
Bucharest
Romanian capital Bucharest is crowned the best city in Europe to have a hen or stag party. Despite its moderate ranking for five-star hotels coming in at 17th of all 44 cities analysed, Bucharest has a huge amount of top class nightlife with more than 50 bars, clubs and comedy clubs rated over five stars on TripAdvisor. This allows the city to make the top spot in Europe for hens and stags to celebrate their upcoming big days. The city also has by far the most casinos with 160 which equates to nearly 9 per 100k residents, potentially making it a particular hit for hen and stag groups hoping to get lucky!
Prague
Prague has the most five star rated nightlife locations per capita of all cities in Europe with 162 across the city, equating to more than 12 per 100k of the population. The Czech capital also sports the second highest number of casinos with 56, enough to see it comfortably in second place. Already a famous party location, this city has all that is needed for a memorable stag or hen do.
Amsterdam
Amsterdam takes top spot for restaurants featured in the Michelin Guide per capita with 70 restaurants making for more than six per 100k population.
Ranking fifth in casinos per capita, sixth for number of five-star hotels, and fourth for five-star nightlife locations, the Dutch capital has it all and makes third place. Already a popular tourist destination, Amsterdam is one of the most easily accessible cities so there's plenty of reason to party here for friends of the bride or groom.
London
London's 163 five-star hotels puts it second in the per capita rankings with this making for 1.75 per 100k people. England's capital also features the third highest number of casinos with 53, and an abundance of Michelin Guide restaurants put it at ninth in this category with 0.57 per 100k population. The exceptional amount of top quality nightlife in London is of course a huge pull for a big stag or hen weekend.
Dublin
With the renown of the Irish for a fun night on the town, Dublin was a sure inclusion for a stag/hen do list, the city also ranks in the top ten in Europe for five star rated nightlife locations per capita. Ranked third in terms of casinos per capita of these European cities with almost two for every 100k residents, and again in the top ten for five-star hotels per capita, the Irish capital makes it into the top five of the list.
Rome
With 124 five star rated nightlife locations across the city the Italian capital makes sixth on the list. As the city with the most top notch hotels per capita in Europe with almost two for every 100k of its population, it's a sure spot for a fantastic stag/hen do.
Copenhagen
The Danish capital sports just over 1.5 casinos per 100k residents, and more than four Michelin restaurants per 100k. Almost 40 five star rated nightlife locations make the only Scandinavian city in the top ten a great location for a pre-wedding shindig.
Antwerp
Containing the second most Michelin Guide restaurants per capita at just over five per 100k, whilst ranking 12th relatively for five starred nightlife locations allows the Belgian city into the eighth spot of the list.
Rotterdam
The Dutch city of Rotterdam comes in ninth with its relative abundance of casinos and Michelin restaurants per capita boosting it up the rankings.
Lisbon
Sporting the third most five-star hotels per capita at just over one and a half, while maintaining a good rank for nightlife allows the Portuguese city to just squeeze into the top ten.
A spokesperson from Bonusetu commented: 
"Everyone wants their stag or hen do to be memorable. Having them in cities with great food, drink, accommodation and nightlife can go a long way in ensuring that. This data can point bridesmaids and groomsmen tasked with throwing the biggest of parties, to the places that will offer them a fantastic time."
Bonusetu is a Finnish casino review site providing recommendations, ratings and reviews as well as identifying bonuses from online casinos.
| | | | | | | |
| --- | --- | --- | --- | --- | --- | --- |
| City | Hotels/100k | Casinos/100k | Restaurants/100k | Nightlife/100k | Average | Rank |
| Bucharest (Romania) | 3.14 | 10.00 | 0.00 | 2.47 | 5.12 | 1 |
| Prague (Czechia) | 1.18 | 4.81 | 3.26 | 10.00 | 4.81 | 2 |
| Amsterdam (Netherlands) | 6.25 | 1.47 | 10.00 | 4.15 | 4.67 | 3 |
| London (UK) | 9.00 | 0.64 | 6.17 | 1.99 | 3.69 | 4 |
| Dublin (Ireland) | 5.01 | 1.92 | 4.81 | 3.02 | 3.34 | 5 |
| Rome (Italy) | 10.00 | 0.13 | 2.58 | 2.35 | 3.04 | 6 |
| Copenhagen (Denmark) | 1.14 | 1.83 | 6.94 | 2.28 | 2.80 | 7 |
| Antwerp (Belgium) | 0.00 | 0.97 | 8.53 | 2.25 | 2.55 | 8 |
| Rotterdam (Netherlands) | 0.79 | 1.56 | 6.82 | 1.62 | 2.47 | 9 |
| Lisbon (Portugal) | 8.15 | 0.04 | 2.28 | 1.69 | 2.44 | 10 |
Methodology
Figures in the above table represent a 10 pt scale score of each city based on the data from 44 major European cities.
Sources 
Hotel data – Google Travel
Casino data – World Casino Directory
Restaurant data – Tripadvisor
Nightlife data – Tripadvisor
Full rankings for the top ten in each category per 100k population are as follows:
| | | |
| --- | --- | --- |
| City | Casinos | /100k |
| Bucharest (Romania) | 160 | 8.89 |
| Prague (Czechia) | 56 | 4.27 |
| Dublin (Ireland) | 21 | 1.71 |
| Copenhagen (Denmark) | 22 | 1.63 |
| Rotterdam (Netherlands) | 9 | 1.38 |
| Amsterdam (Netherlands) | 15 | 1.30 |
| Minsk (Belarus) | 24 | 1.18 |
| Antwerp (Belgium) | 9 | 0.87 |
| London (UK) | 53 | 0.57 |
| Sofia (Bulgaria) | 7 | 0.55 |
| | | |
| --- | --- | --- |
| City | 5*Hotels | /100k |
| Rome (Italy) | 83 | 1.95 |
| London (UK) | 163 | 1.75 |
| Lisbon (Portugal) | 47 | 1.59 |
| Istanbul (Turkey) | 238 | 1.57 |
| Porto (Portugal) | 17 | 1.30 |
| Amsterdam (Netherlands) | 14 | 1.22 |
| Naples (Italy) | 22 | 1.00 |
| Dublin (Ireland) | 12 | 0.98 |
| Athens (Greece) | 30 | 0.95 |
| Paris (France) | 104 | 0.94 |
| | | |
| --- | --- | --- |
| City | Michelin Restaurants | /100k |
| Amsterdam (Netherlands) | 70 | 6.09 |
| Antwerp (Belgium) | 54 | 5.19 |
| Brussels (Belgium) | 107 | 5.14 |
| Lyon (France) | 82 | 4.77 |
| Copenhagen (Denmark) | 57 | 4.22 |
| Rotterdam (Netherlands) | 27 | 4.15 |
| Paris (France) | 432 | 3.92 |
| Munich (Germany) | 58 | 3.77 |
| London (UK) | 349 | 3.75 |
| Zurich (Switzerland) | 50 | 3.57 |
| | | |
| --- | --- | --- |
| City | 5* Nightlife Locations | /100k |
| Prague (Czechia) | 162 | 12.37 |
| Budapest (Hungary) | 97 | 5.48 |
| Belgrade (Serbia) | 73 | 5.21 |
| Amsterdam (Netherlands) | 59 | 5.13 |
| Sofia (Bulgaria) | 62 | 4.84 |
| Berlin (Germany) | 135 | 3.79 |
| Dublin (Ireland) | 46 | 3.74 |
| Hamburg (Germany) | 61 | 3.41 |
| Bucharest (Romania) | 55 | 3.06 |
| Rome (Italy) | 124 | 2.91 |