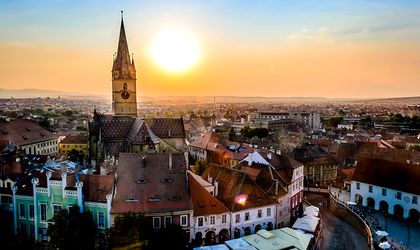 An important cultural and economic center in the south of Transylvania, Sibiu is a must-visit destination.
Sibiu's old center is very well preserved 
The city's historic center is one of the best preserved in the country and still displays walls and fortified systems that have been standing for centuries. The medieval streets covered in cobble stone, the squares and the towers will make you feel like you took a trip back in time.
Sibiu is a former Capital of Culture
Sibiu is the 2007 Capital of Culture, a title that gave it increased visibility and notoriety. Now the city is preserving the tradition by maintaining a lively cultural scene.
Sibiu has great museums
Sibiu has plenty of museums, from art museums to anthropology and natural history museums. Established in 1817, the Brukenthal Museum, which gathers several separate museums, is one one of the first public museums in Europe. Its eclectic art collection features over 1,200 paintings by masters of European art, and attracts half a million visitors every year. Also, make sure not to miss the ethnography sections of the Astra Museum.
Sibiu is a very romantic destination
Sibiu is a romantic destination. The colorful facades, the narrow winding streets and the picturesque squares offer the perfect backdrop for a romantic getaway.
Sibiu has a great jazz festival
Sibiu's Jazz Festival has a tradition in bringing to the city the most interesting names on the jazz scene. The festival's 47th edition attracted 120 artists from 17 countries.
Fagaras Mountains are found nearby
When visiting Sibiu, include in your itinerary a hike in Fagaras Mountains, Cindrel Mountains and Lotrului Mountains, all found at less than 25 kilometers. They offer picturesque vistas, fresh air and the opportunity to spot Romania's amazing wildlife.
Sibiu has the best Christmas decorations
According to testimonials, Sibiu boasts the best Christmas decorations in the country. Also, do not miss the Christmas Fair, usually held in the city center, in the Great Square.
Visit the Bridge of Lies
The Bridge of Lies has an intriguing legend. Supposedly, if you walk on the bridge and tell a lie, the bridge will collapse.